A healthy catch up with a cuppa
by Jenny Atkins, LiveLighter nutritionist and busy mum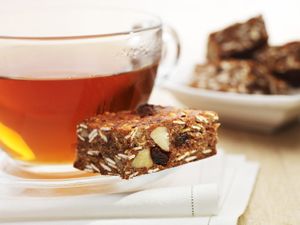 Hands up if your diary is peppered with morning tea invitations?
We live in a fabulously multicultural country and have many occasions to celebrate – Australia Day, Chinese New Year, Harmony day, Easter, Diwali, Christmas just to name a few. For those with kids, there are mother's group catch ups, sporting days, parent meetings and the list is endless. Add to this our generous community efforts of fundraising for various charities and we could have a morning tea celebration every week for the year!
Morning tea time is an opportunity to have a little something which will keep you going until lunchtime. It's a nice break in the day to catch up with family, friends, colleagues and meet new people too.
If you're hosting or contributing a plate, it is tempting to head to the shops to buy something – often a highly processed food. In other words, junk food. Full of sugar and fat.
What about bringing along healthy homemade treats instead of the usual chocolate cake? Your dish can make a positive difference to your health and also helps support others to make healthy choices. Let's look at easy ways that you can make your own healthy morning tea treats:
Pick a dish that uses ingredients that you already have at home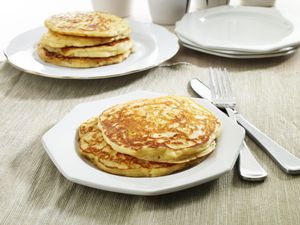 Pancakes and pikelets are easy to make with ingredients already in your pantry and fridge: flour, egg and milk. Grate in some fruit (apple, pear) or vegies (zucchini, carrot) and you have a flavoursome, healthy and homemade contribution!
Pack your dishes with fruit & veg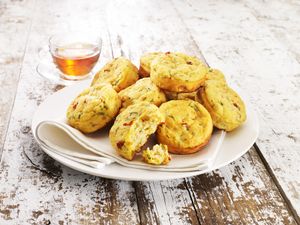 A fruit platter is simple and happily enjoyed by the masses. Choose fruits that are in season so that it is tasty and also at the best price. Remember, we eat with our eyes as well as our mouth, so include a variety of colourful fruit. If catering for kids, they often prefer grab-and-go chopped pieces instead of large pieces or whole fruit. Keep skin on for added fibre.
Skip the bag of chips full of fat and salt, and offer a vegie based dip with colourful chopped up raw carrot sticks, celery, cucumber, mushroom, tomato, green beans, broccoli or cauliflower florets. Have you tried making your own guacamole or eggplant dip?
Cakes and muffins are always popular items. Make it yourself and you can control how much fat and sugar goes into it, and can also fill it up with fruit or veg. Try our easy mini carrot cakes or savoury corn bread.
Offer a mix of warm and cold foods
Savoury scrolls are a fantastic pre prepared recipe for any morning tea. Use our basic pizza scrolls recipe and substitute your favourite fillings. Make it and freeze ahead of time!
Skip the frozen sausage rolls and make your own batch of spinach and cheese rolls.
Sandwiches are also a great option: use wholemeal grainy bread and you have already made a healthy start. Keep fillings simple e.g. egg, cheese or lean meat and salad so that is tasty and also reasonable for your budget.
Combine dried fruit, nuts, seeds and breakfast cereals to make a nibble mix. How about adding some spices like curry powder or paprika for a savoury flavour?
A plate of cheese and crackers always gets the thumbs up for those that don't have a sweet tooth. This gets easy ticks from both kids and adults.
What about brekkie items? Bircher muesli is great as a snack too! It's a tasty alternative for people who don't want a slice of cake or muffin, but want something sweet. Prepare it the previous night and then you can grab it and go! Try our overnight no-cook oats.
Serve water for those that don't want to have tea or coffee
Drinks are an essential part of any morning tea. We know that we should drink plenty of water every day. Why not jazz up your water with some fruit for extra flavour and colour? Try the following mouth popping combinations:
To promote healthy eating and minimise waste and costs, provide small serves. If you have a wide variety of dishes, people might want to just sample a bit of everything, so keep the serve size small e.g. small cheese cubes, halve the muffins.
So go ahead and enjoy your time with your family, friends or workmates for morning tea – just make it healthier. I bet that you won't be the only one happy to see healthy options. In fact, you might even start healthy eating as the normal trend!
I'd love to hear if you have a go-to healthy option you provide for morning teas. Let me know in the comments below.
Main image: LiveLighter's date and muesli slice
---
Related posts