MEDIA RELEASE
Peak Bodies warn 'Sugary Drinks are a Rotten Choice'
19/01/2020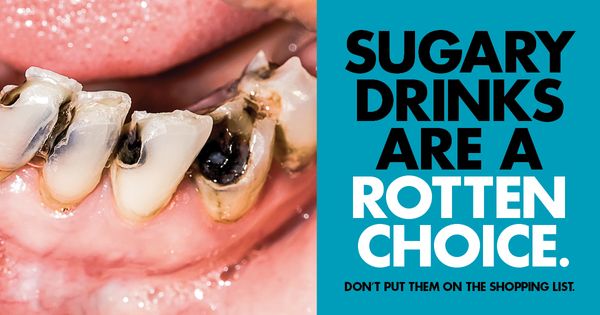 Cancer Council Western Australia and the Australian Dental Association of WA (ADAWA) have united to call for tougher restrictions on the sale and promotion of sugary drinks to children, urging sugary drinks to be removed from public venues that children frequent such as sporting and health facilities, and banning junk food advertising on public transport and billboards.
It comes as the two organisations launch a new LiveLighter campaign titled 'Sugary Drinks are a Rotten Choice' that features graphic depictions of rotten teeth. The campaign aims to raise awareness of the huge impact of sugary drink consumption on dental health, and hopes to give West Australians yet another reason to ditch the sweet drinks.
ADAWA Chief Executive Officer Dr David Hallett said that tooth decay is the most common chronic disease in Australian adults and children[1], and restrictions on the promotion and availability of sugary drinks would significantly improve Western Australia's overall dental health.
"Consumption of added sugars is the main contributor to tooth decay in children, young people and adults," Dr Hallett said.
"Given nearly half of Australian children have tooth decay[2], it's clear that we need to do more to raise awareness of how these products are ruining our WA smiles, but also to have an environment that makes healthy choices easier.
"In 2020, with what we know about protecting teeth, we should have eradicated tooth decay. Instead not only is tooth decay common, but our members are reporting that these cases of severe decay are far too frequent."
Cancer Council WA's LiveLighter Manager Kelly Kennington echoed this concern, saying it adds to the already alarming evidence about the role sugary drinks play in fuelling cancer-causing toxic fat.
"Sugary drinks are the single biggest contributor of added sugar in Australians' diets[3]. They can lead to weight gain, and we know that being above a healthy weight increases the risk of 13 types of cancer," Ms Kennington said.
"Australians consume approximately 1.43 billion litres of sugary drinks each year[4].
"Many people don't realise just how much sugar these drinks contain, for example, one 600mL bottle of regular soft drink contains 16 teaspoons of sugar."
She added that while campaigns like LiveLighter are crucial, public education alone isn't enough and called for a whole-of-sector response to ensure children and families are supported to make healthier choices and protected from junk food and sugar beverage industry tactics.
"We can't expect personal choice to triumph when we're living, working and playing in environments that are saturated with advertising and promotion of cheap unhealthy options at every turn – families need to be supported," Ms Kennington said.
"Illness from overweight and obesity cost WA hospitals $241 million in 2011, and is predicted to double to $488.4 million by 2021[5].
"Given this health crisis is largely fuelled by the fast food industry globally, it's unfathomable that even public buses that take our kids to school are completely covered in sugary drink advertisements from major fast food chains.
"We need junk food advertising removed from public transport and outdoor advertising spaces owned by the Government and we want to see sugary drinks removed from sale at hospitals and venues that attract kids, such as junior sport and publicly owned family attractions."
The new campaign runs for six weeks from Sunday January 19 to coincide with the typical summer slushie and sugary-drink advertising onslaught.
-ends-
BACKGROUND
LiveLighter is a healthy lifestyle social marketing campaign targeting Western Australian adults. It is run Cancer Council WA and by funded by the Department of Health WA.
LiveLighter aims to reduce the burden of chronic disease caused by overweight and obesity, poor diet, and physical inactivity. It does this through a comprehensive approach including; hard-hitting TV-led public education campaigns, community-based support strategies, production and distribution of public education materials, research and evaluation, public relations activities, media and political advocacy on obesity prevention issues, and input into the development of public health policy.
ADAWA is the recognised voice of dentistry in WA and has 92% of registered dentists and dental specialists as members. They promote the art and science of dentistry, represent the profession and provide services which promote the highest level of oral health in the community
The 'Sugary Drinks are a Rotten Choice' campaign will feature graphic advertisements of rotten teeth all over Perth and in regional WA, including on digital billboards, train interiors, bus sides and smart cars, along with digital exposure.
The major aims of the campaign are to discourage the purchase of sugary drinks and reduce family and household consumption of these products. Parents of school-aged children are the primary target audience as they are likely to be the main grocery buyer for their household and have a significant influence on the consumption habits of their family.
Data from the ABS Australian Health Survey shows that 70.3% of children (9-13), 73.1% of young people (14-18) and 47.8% of adults (19+) are consuming too much sugar

[6]

.
One in four children (aged 6-14) has had dental caries in their permanent teeth

[7]

.
Australians (over 15 years old) have an average of 12.8 decayed, missing and filled teeth

[8]

.
When we eat or drink sugar, bacteria in our mouths breaks down the sugar into acids, which then attacks our teeth, dissolving the outer surface of tooth enamel. Sugary drinks bathe our teeth in sugar – and the acidity of many juice and carbonated drinks means a double whammy of acid that further damages teeth.
For more information on LiveLighter's 'Sugary Drinks are a Rotten Choice' campaign, visit https://livelighter.com.au/The-Facts/About-Sugary-Drinks.
REFERENCES
[1] Australian Dental Association & Australian Health Policy Collaboration, 2018 https://www.ada.org.au/Dental-Professionals/Australia-s-Oral-Health-Tracker/Australia-s-Oral-Health-Tracker-Children-and-Young/ADA_AHPC_oralhealthtracker2018_childrenandyoungpeo.aspx
[2] Australian Dental Association