Soccer dad Tiago reaps benefits of quitting alcohol
by Ben Somerford,
Three months ago, North Perth resident Tiago de Sousa had reached 144 kilograms and he made a decision. He was sick of being held back by pain in his foot, feeling tired and decided to do something about his health and weight. He quit alcohol.
Brazil-born Tiago, 39, coaches his son Daniel's Under-9's side at Subiaco AFC and couldn't keep up with the kids at training. At work, where he owns a café in Claremont, he was feeling tired. At home, he felt a lack of energy. He'd get home from busy days at work and drink beer on the couch.
He decided enough was enough, and quitting alcohol was his first change. He also joined the MAN v FAT soccer program at UWA, started being more active and eating healthier.
The results have been immediate, trimming down and on track to meet his health goals and meet his target weight to be 108kg by March.
"My weight loss has been steady throughout. I've lost 1-2 kilograms every week for the past three months," Tiago says.
"I started off cutting out alcohol, eating healthier such as cutting out sugar and being more active with more regular walks and two 30-minute games of soccer each week with the MAN v FAT program. I feel happier and more energised."
His story shows how alcohol consumption can add up over time. With this in mind, Cancer Council WA's latest LiveLighter digital campaign aims to raise awareness about the significant number of kilojoules contained in alcoholic drinks.
"I'd drink one carton of beer per week," Tiago explains. "During the week I'd abstain, but I'd get in a routine that on Thursday to Saturday nights I'd have six-to-eight beers on the couch after a busy and stressful day at work.
"I wouldn't drink from Sunday to Wednesday. Too much was happening at work. But by Thursday I'd relax with a few beers and go again on the cycle."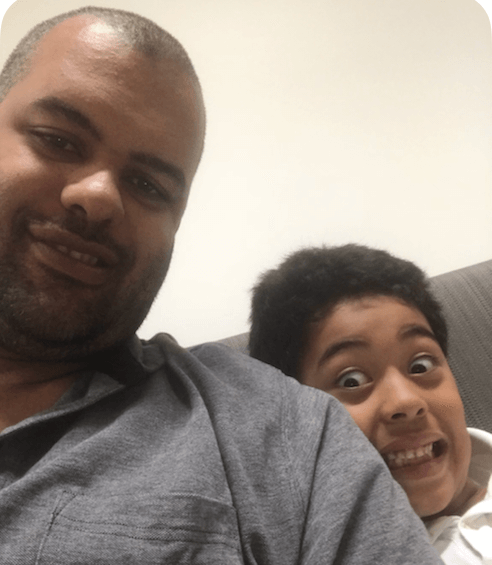 LiveLighter's latest campaign also talks about how alcohol consumption often leads to unhealthier eating choices such as junk food, which Tiago knows all too well.
"I'd have lots of junk food like pizzas, fried chicken and burgers," he recalls. "My eating was a bad example for my son too. Kids follow what their parents eat. My son didn't eat enough vegies. We've changed that a lot.
"Since the changes I've been able to spend more active time with the family," he explains. "Daniel does things like jiu-jitsu, tennis and soccer, so I can get involved and help him learn.
"For the past two years I've been a volunteer coach at Subiaco with my son and his teammates. I felt a bit limited with the kids due to my weight and fitness and 8-9-year-olds don't tend to listen, so I needed to move around. But I love doing it.
"Now I feel more energy to do more things. I'm more motivated to get off the couch. The first month was hard. The lifestyle change was really tricky, getting used to not drinking and not eating certain things. But at the same time it's been great."
Tiago's weekly participation in the MAN v FAT program based at UWA has been a big factor too. MAN v FAT is a community weight loss program designed specifically for men. They meet weekly, get expert help and resource and support their team mates. Then they play.
Having grown up playing soccer in his native Brazil before moving to Australia 14 years ago, he's loved the return to playing competitively, having not played for a few years. He's been one of the biggest weight losers at MAN v FAT, helping his side and keeping him accountable.
"One of my motivations is soccer," he says. "Sometimes I treat myself with food but I've completely abstained from alcohol. It's not easy but it is rewarding. It makes me, my son and my wife happier.
"I feel better and can be more active. I've more energy, I wake up better. I enjoy the little things in life, like walking around Lake Monger and seeing how pretty the world is. I enjoy it."
LiveLighter's new campaign aims to encourage WA Aussies who drink to reduce the amount of booze they have over the festive season. As new data released today by @CancerCouncilWA reveals that around 2 in 5 Aussies put on weight over the Christmas period. https://t.co/fPHRVgIdeA pic.twitter.com/6dBzsJnZ6C

— LiveLighter (@Live_Lighter) December 2, 2019
---
Related posts