Healthy Mushroom & Tomato Bruschetta Recipe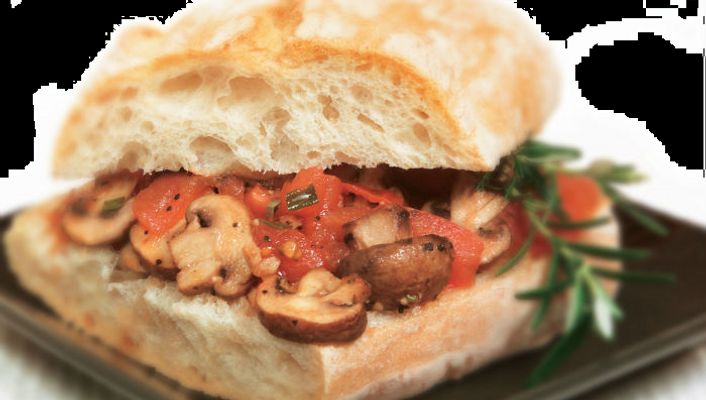 Ingredients
400 g assorted mushrooms (Swiss brown, flat, button), sliced
3 tomatoes, chopped
2 sprigs rosemary
1 tsp fresh parsley or sage, chopped
2 cloves garlic, crushed
1 tsp lemon juice
1 tsp balsamic vinegar
2 tsp olive oil
1/2 ciabatta loaf
Method
Preheat oven to 200 °C (180 °CfFan forced).
Mix mushrooms, tomatoes and herbs in an ovenproof dish.
Whisk garlic, lemon juice, vinegar and oil. Pour over mushroom mixture.
Loosely cover with foil and cook in oven for 20-25 minutes. Heat the bread during the last 5 minutes of cooking.
Cut the loaf in half lengthways and cut each half into 4. Spoon mushroom mixture onto bread, grill and garnish with rosemary.
Hint
For a quicker alternative, gently simmer the mushroom mixture in a covered frypan for 10-15 minutes. Heat the loaf for 5 minutes in the oven to make it crisp.
Recipe from Healthy Food Fast © State of Western Australia, 2012. Reproduced with permission.
Healthy tip!
Choose plain water or soda water in place of a sugary drink.
Start to LiveLighter today
Become a member for free and receive your personalised meal plan.
Nutrition Information
| | per serving | per 100g |
| --- | --- | --- |
| Energy | 331 kJ | 287 kJ |
| Protein | 4.1 g | 3.6 g |
| Fat, total | 1.8 g | 1.5 g |
| — saturated | 0.2 g | 0.2 g |
| Carbohydrate | 10.5 g | 9.1 g |
| — sugars | 1.8 g | 1.6 g |
| Sodium | 133 mg | 115 mg |
| Fibre | 2 g | 1.8 g |