Healthy Roasted Pumpkin & Salad Sandwich Recipe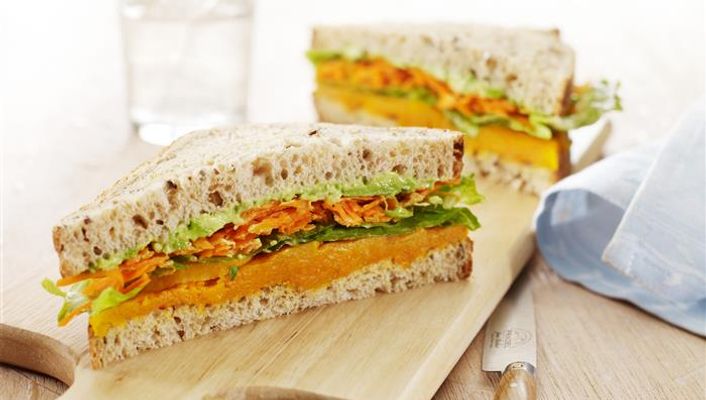 Ingredients
100 g pumpkin, peeled and seeded
1/2 avocado, peeled and stoned
4 slices wholegrain bread
1 small carrot, peeled and grated
1 large iceberg lettuce leaf, torn into 4 pieces
Method
Preheat oven to 180°C (160°C fan forced).
Put pumpkin in a baking tray and roast for 10 minutes or until cooked. Remove from oven and allow to cool for a few minutes. Slice thinly and set aside.
In a small bowl, lightly mash the avocado with a fork. Spread avocado onto 2 slices of bread.
Top the bread with carrot, lettuce and pumpkin.
Top with remaining slices of bread.
Serving Suggestion: This is a good way of using leftover, cold roast pumpkin the next day.
Healthy tip!
Choose plain water or soda water in place of a sugary drink.
Start to LiveLighter today
Become a member for free and receive your personalised meal plan.
Nutrition Information
| | per serving | per 100g |
| --- | --- | --- |
| Energy | 1167 kJ | 592 kJ |
| Protein | 8 g | 4 g |
| Fat, total | 14 g | 7 g |
| — saturated | 3 g | 2 g |
| Carbohydrate | 26 g | 13 g |
| — sugars | 7 g | 4 g |
| Sodium | 247 mg | 125 mg |
| Fibre | 4 g | 8 g |