Healthy Thai Beef Salad Recipe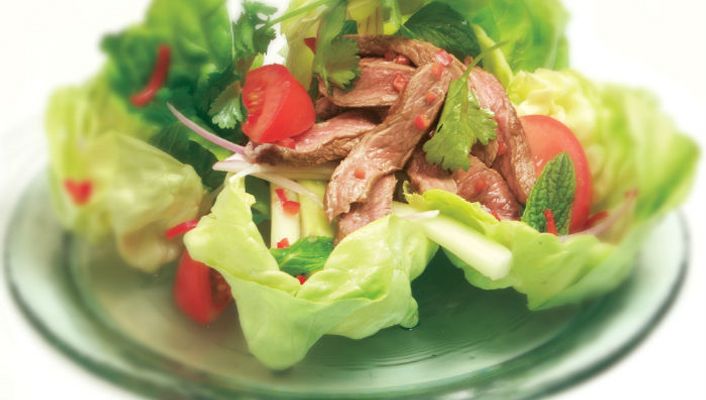 Ingredients
olive or canola oil spray
400 g lean beef
2 limes, juiced
1 tbs caster sugar, dissolved in 1 tablespoon boiling water
2 tbs Thai fish sauce
1 red chilli, seeded and finely chopped
1 tbs mint leaves, chopped
1 tbs fresh coriander, chopped
6 lettuce leaves, shredded
2 tomatoes, cut into wedges
1 small cucumber, sliced
1 small red onion, thinly sliced
2 radishes, thinly sliced
8 mint leaves
8 coriander leaves
red chilli, seeded and finely chopped (optional)
Method
Heat a non-stick pan and lightly spray with oil. Pan-fry the beef rare. Cool and slice thinly.
For the dressing, combine the lime juice, caster sugar, fish sauce, chopped chilli, chopped mint and chopped coriander in a small bowl. Pour over the beef.
Mix remaining ingredients together in a salad bowl. Top with beef. Serve immediately.
Recipe from Healthy Food Fast © State of Western Australia, 2012. Reproduced with permission.
Serving Suggestion: The beef is best served rare but can be cooked to your liking.
Healthy tip!
Chilli, lemon and herbs add flavour - great alternatives to butter and salt!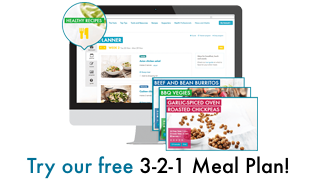 Nutrition Information
| | per serving | per 100g |
| --- | --- | --- |
| Energy | 848 kJ | 332 kJ |
| Protein | 23.6 g | 9.2 g |
| Fat, total | 8.5 g | 3.3 g |
| — saturated | 2 g | 0.8 g |
| Carbohydrate | 5.4 g | 2.1 g |
| — sugars | 0.2 g | 2 g |
| Sodium | 1007 mg | 395 mg |
| Fibre | 3.5 g | 1.4 g |