MEDIA RELEASE
Study finds 2 in 3 drinks at Perth supermarket checkouts are bad for health
09/09/2019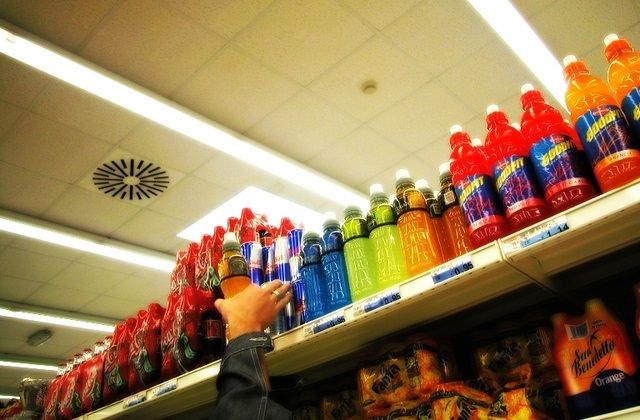 A LiveLighter analysis has found that more than 2 in 3 drinks promoted at Perth supermarket checkouts are bad for health.
LiveLighter undertook the analysis after statistics from the most recent Shape of Australia study found that 4 in 5 people who drink sugary drinks buy them at the supermarket. The Shape of Australia study also found that 1 in 5 of us are tempted by junk food and drinks at the checkout, with men and those aged 18-34 years at highest risk.
To investigate the extent to which sugary drinks are promoted at the supermarket checkout, LiveLighter collected data from a convenience sample of 22 Coles and Woolworths stores in the Perth metropolitan area.
On average, half (49%) of the drinks offered at the checkout were sugary drinks, 1 in 5 (22%) were 'diet' drinks (included sweetener), 4% were low sugar drinks, and only one quarter (25%) of the drinks displayed were sugar and sweetener free (water or flavoured water without sugar or sweetener).
The proportion of sugary drinks available in the individual stores sampled ranged from 38% to 62%.
The findings are particularly relevant in light of the current LiveLighter campaign, which singles out sugary drinks as a major contributor to toxic fat that can trigger 13 types of cancer.
Australian adults consumed 1.43 billion litres of sugary drinks per year, while Australian children consume 377 million litres each year, adding to the overweight and obesity problem.
Two in three Australians are above a healthy weight, along with one in four children.
LiveLighter Accredited Practising Dietitian Gael Myers said sugary drinks were a major contributor to the issue in Australia and called on supermarkets to play their part to help shift dietary habits.
Ms Myers said: "It's not as simple as telling people to take responsibility for their food and drink choices. Willpower is not something we can exercise indefinitely; if our environment continually pushes us to make unhealthy choices at some point we will give in.
"Studies out of the UK have revealed the power of junk-free checkouts to reduce the purchase of junk foods and drinks at the supermarket.
"Supermarkets are well placed to shift the dietary habits of Australians by promoting healthier options to consumers like still and sparkling water, flavoured water with no or minimal added sugar and low sugar options like kombucha and coconut water.
"While we love some of the initiatives that supermarkets have already put in place, like providing free fruit for kids, we'd also like to see them promoting less junk food and drink at the checkout.
Although diet drinks are low in sugar and kilojoules they've still been linked to type 2 diabetes and obesity.
Research suggests this is because drinking something sweet can prime your body to crave sweet things more often, meaning you're more likely to eat that piece of cake or chocolate at a later point. Diet soft drinks are also highly acidic which makes them bad for teeth.
Check out LiveLighter's latest campaign on sugary drinks here.
| | |
| --- | --- |
| Drinks category | Average proportion in checkout drinks fridges |
| Soft drinks | 20% |
| Energy drinks | 13% |
| Sports drinks | 7% |
| Iced tea | 3% |
| Flavoured milk | 5% |
| Fruit drinks | 1% |
| Total sugary drinks | 49% |
| | |
| Diet energy drinks | 3% |
| Diet soft drinks | 17% |
| Kombucha with sweetener | 2% |
| Total diet drinks | 22% |
| | |
| Low-sugar flavoured water | 1% |
| Coconut water | 1% |
| Kombucha | 2% |
| Total low-sugar | 4% |
| | |
| Water | 23% |
| Flavoured water without sugar or sweetener | 2% |
| Total no sugar or sweetener | 25% |