MEDIA RELEASE
LiveLighter's latest campaign denied by social media giants
08/02/2020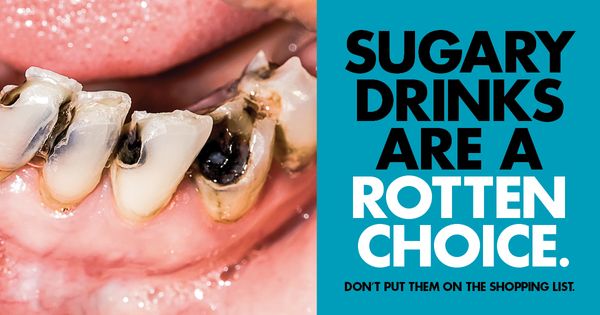 Cancer Council WA is calling for tougher restrictions on junk food and drink advertising to children after its own campaign was blocked by social media giants Facebook, Snapchat and Instagram.
The social media platforms blocked Cancer Council WA's latest LiveLighter public health campaign on raising awareness of the health impacts of sugary drinks consumption, while at the same time allowing sugary drinks companies to freely advertise their unhealthy products on the same platforms.
This action by the social media platforms coincides with a report released last Friday from World Cancer Research Fund (WCRF) that highlights that many countries around the world are failing to protect children from the effects of junk food marketing on their health.
Global childhood obesity rates are on the rise, with one in four Australian children either overweight or obese. The WCRF report explains the significant impact marketing has on what children want, buy and eat, with research showing that seeing 4.4 minutes of food advertising can lead to children eating 60 more calories a day[1]. Eating as little as 46 extra calories each day can lead to excess weight in children[2].
LiveLighter®, which is run by Cancer Council WA and funded by the Department of Health, partnered with the Australian Dental Association of WA (ADAWA) for the new campaign titled 'Sugary Drinks are a Rotten Choice'. Launched a fortnight ago, the new campaign illustrates how sugary drinks lead to serious tooth decay and weight gain which causes chronic disease and 13 types of cancer.
The social media platforms blocked the first iteration of the campaign, titled 'Thirsty', which featured videos of young people with tooth decay, resulting in a complete re-design of the campaign.
Facebook/Instagram provided Cancer Council WA with the following statement: "This creative can't run because it contains images which imply or attempt to generate negative self-perception in order to promote diet, weight loss, or other health related products. Ads may not show body depictions that are potentially offensive, unrealistic, or degrading to the user. Images like this tend to promote a negative user experience."
It's not the first time that a Cancer Council WA campaign has been blocked on social media, with recent examples such as LiveLighter's "grabbable gut" campaign, SunSmart ads with images of skin spots and Find Cancer Early ads about "blood in your poo" also rejected.
The creative for the new campaign was subsequently revised and placed on outdoor channels such as digital billboards, train interiors, bus sides and smart cars across WA, and a much softer approach used for social media platforms.
Cancer Council WA's LiveLighter Manager Kelly Kennington said: "We are frustrated that yet again our organisation's important health messages have been rejected by several major online platforms, yet junk food and sugary drink companies that are fuelling a global obesity epidemic have free rein on those same platforms.
"This is an important public health campaign because we know that excess sugary drink consumption increases the risk of oral diseases such as tooth decay, as well as the long list of chronic diseases that are impacting on the health of Western Australian families.
"Children and young adults are heavy users of social media which means they are bombarded with unhealthy advertising, yet we can't use social media to advertise to their parents effectively.
"Our spending for this campaign is minimal compared to the promotional budgets available to junk food and sugary drink companies, which is why we rely on avenues such as social media platforms to inform people of the health risks associated with the consumption of sugary drinks and counter-act some of heavily resourced junk food and drink industry.
"Not only are we up against a powerful marketing force online, these companies have almost no restrictions on how they can advertise to kids, including advertising on government-owned property such as public transport and billboards, and even on school buses."
The new campaign runs for six weeks from Sunday January 19 to coincide with the typical summer slushie and sugary drink advertising onslaught.
The WCRF report also coincides with similar calls to action last week from Cancer Council WA and the ADAWA, who issued a call for tougher restrictions on the sale and promotion of sugary drinks to children, urging sugary drinks to be removed from public venues that children frequent such as sporting and health facilities, and banning junk food advertising on public transport and billboards.
-ends-
BACKGROUND
LiveLighter is a healthy lifestyle social marketing campaign targeting Western Australian adults. It is run Cancer Council WA and by funded by the Department of Health WA.
Recent Cancer Council WA campaigns blocked on social media include (covered by ABC's Mediawatch);

Find Cancer Early ads in May 2018 encouraged people in regional areas to visit their doctor if they notice symptoms with direct language such as "Blood in your poo?", "Blood in your wee?", "Do you have cancer?", "Noticed blood in your poo?". Facebook blocked the ads with the reason: "Your ad was not approved because the body text calls out to specific personal attribute of a physical/medical/mental condition."
LiveLighter's 'grabbable gut' campaign in July 2017 featured images of a man gripping rolls of abdominal fat designed to address the growing overweight and obesity issue in WA. Facebook blocked the ads with the reason: "Your advert wasn't approved because we don't allow adverts that reference body images in a way that may make some viewers upset. Adverts that refer to someone's health or appearance are sensitive in nature."
Previously, SunSmart ads containing images of skin spots were rejected, preventing important messages about skin checks. Reason: Offensive, threatening images or video. Ads containing images or video that is offensive or threatening to the general public are ineligible to appear on Yahoo.

LiveLighter aims to reduce the burden of chronic disease caused by overweight and obesity, poor diet, and physical inactivity. It does this through a comprehensive approach including; hard-hitting TV-led public education campaigns, community-based support strategies, production and distribution of public education materials, research and evaluation, public relations activities, media and political advocacy on obesity prevention issues, and input into the development of public health policy.
ADAWA is the recognised voice of dentistry in WA and has 92% of registered dentists and dental specialists as members. They promote the art and science of dentistry, represent the profession and provide services which promote the highest level of oral health in the community.
For more information on LiveLighter's 'Sugary Drinks are a Rotten Choice' campaign, visit https://livelighter.com.au/The-Facts/