Healthy Spinach Pumpkin & Cheese Cannelloni Recipe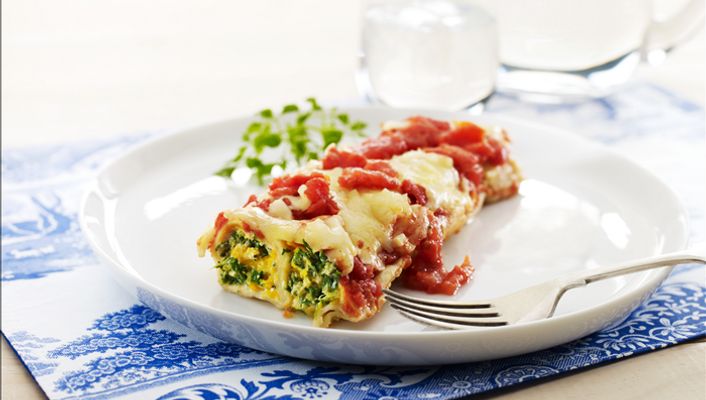 Ingredients
1 kg Japanese, Kent or butternut pumpkin, peeled and cut into 3cm chunks
250 g frozen spinach, chopped
500 g reduced-fat ricotta or low-fat cottage cheese
2 cloves garlic, crushed
400 g can no-added-salt diced tomatoes
375 g fresh lasagne sheets (10 x 16cm)
1/2 cup basil leaves, chopped
1 cup reduced-fat mozzarella or cheddar cheese, grated
Method
Preheat oven to 180°C (160°C fan forced).

Place frozen spinach into a microwave safe bowl and cook on HIGH (100%) for 3 minutes before setting aside.

Steam or microwave pumpkin with a bit of water for 10-15 minutes until tender.

Squeeze handfuls of cooked spinach to remove excess liquid and add to a large bowl with garlic and ricotta or cottage cheese.

Drain and mash cooked pumpkin.

Add pumpkin to cheese spinach mixture and stir to combine.

Spread 1/3 cup of tinned tomatoes over the base of a large 3cm deep rectangular 20x30cm ovenproof dish.
Spoon 1/3 cup of pumpkin mixture lengthways into the middle of each lasagne sheet and roll up to enclose.

Arrange cannelloni in a single layer close together seam side down in the dish.

Sprinkle with basil, spread over remaining tomatoes and top with cheese.
Bake for 15 minutes, cover with foil to prevent burning and cook for a further 15 minutes or until tender.

Serve with a green salad.
Healthy tip!
On a budget? If fresh produce is not available or is too expensive, try canned or frozen fruit and veg!
Start to LiveLighter today
Become a member for free and receive your personalised meal plan.
Nutrition Information
| | per serving | per 100g |
| --- | --- | --- |
| Energy | 1253 kJ | 369 kJ |
| Protein | 21.6 g | 6.4 g |
| Fat, total | 10.3 g | 3 g |
| — saturated | 6.1 g | 1.8 g |
| Carbohydrate | 26.7 g | 7.8 g |
| — sugars | 9 g | 2.6 g |
| Sodium | 364.3 mg | 107.2 mg |
| Fibre | 6.5 g | 1.9 g |