Healthy Raspberry Mango Popsicles Recipe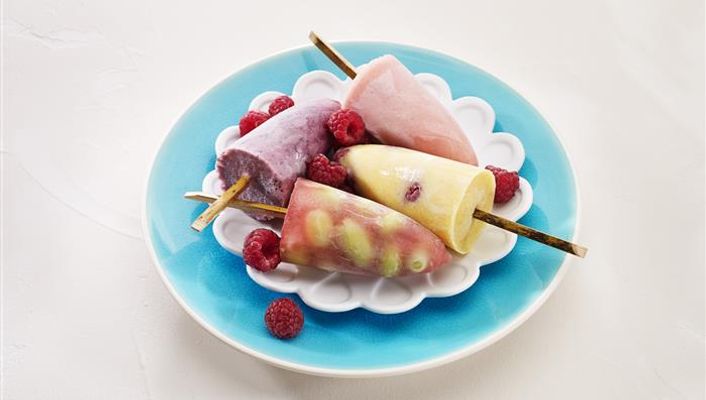 Ingredients
1 mango
1 banana, peeled
200 g low-fat mango yoghurt
24 raspberries, fresh or frozen
Method
1. Place mango, banana and yoghurt into a blender and blend until smooth.
2. Put 6 raspberries into each cup and top with mango mix.
3. Secure lids on molds or insert popsicle sticks and freeze for 4-6 hours or overnight until solid.
4. Stand at room temperature for a few minutes before removing from mould.
Variations
Place any combination of finely diced fruit into mould including: blueberries, strawberries, seedless watermelon, rockmelon, kiwifruit, drained canned peaches, apricots or pineapple in natural juice, and passionfruit pulp. Top with an unsweetened fruit juice such as orange, pineapple or apple and blackcurrant.
For stripes of colour half fill moulds with one fruit, freeze for 4 hours or overnight then fill with a different flavour or colour of fruit or fruit yoghurt before freezing.
Nutrition Information
| | per serving | per 100g |
| --- | --- | --- |
| Energy | 407 kJ | 320 kJ |
| Protein | 3.3 g | 2.6 g |
| Fat, total | 1.9 g | 1.5 g |
| — saturated | 1.1 g | 0.9 g |
| Carbohydrate | 15.8 g | 12.4 g |
| — sugars | 14.7 g | 11.5 g |
| Sodium | 28.5 mg | 22.4 mg |
| Fibre | 1.6 g | 1.2 g |