Healthy Berry Fruit Jelly Recipe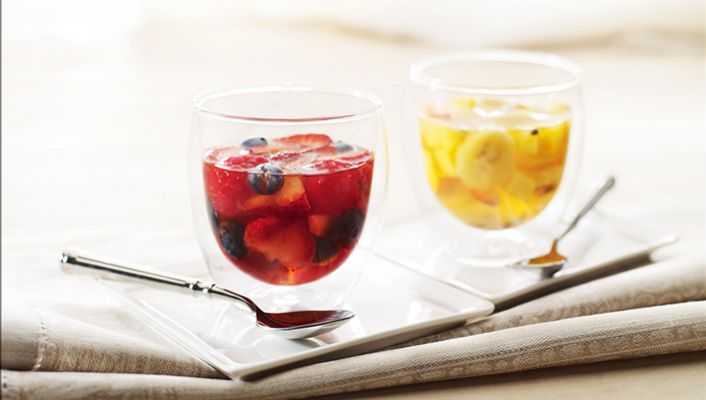 Ingredients
2 cups no-added-sugar apple and blackcurrant juice
3 tsp powdered gelatine
1/2 tsp rosewater essence, optional
250 g strawberries, quartered or 300g frozen mixed berries or blueberries
Method
Place ½ cup juice and gelatine into a 1-litre microwave safe jug. Microwave on HIGH for 1 minute to boil and dissolve gelatine.
Mix well while pouring in remaining juice and essence.
Divide fruit among four 250ml (1-cup) capacity serving glasses.
Pour juice over fruit and carefully stir with a teaspoon to distribute fruit through jelly.
Cover each glass with plastic wrap and refrigerate for 4 hours or overnight until set.
Hint
These jellies are best made 6 to 8 hours before serving. If left for more than 24 hours, the fruit will begin to soften in the jelly.
Rosewater essence is found in baking aisle of supermarket with other flavourings and vanilla. It is inexpensive and adds a subtle sophisticated 'Turkish delight' flavour.
Serving Suggestion: For a special occasion, jellies present beautifully in a long stemmed wine or martini glass garnishes with mint and extra chopped fruit.
Start to LiveLighter today
Become a member for free and receive your personalised meal plan.
Nutrition Information
| | per serving | per 100g |
| --- | --- | --- |
| Energy | 305 kJ | 155 kJ |
| Protein | 3.3 g | 1.7 g |
| Fat, total | 0.1 g | 0 g |
| — saturated | 0 g | 0 g |
| Carbohydrate | 14.8 g | 7.6 g |
| — sugars | 14.8 g | 7.6 g |
| Sodium | 23.6 mg | 12 mg |
| Fibre | 0.9 g | 0.4 g |