Healthy Lamb Shank Casserole Recipe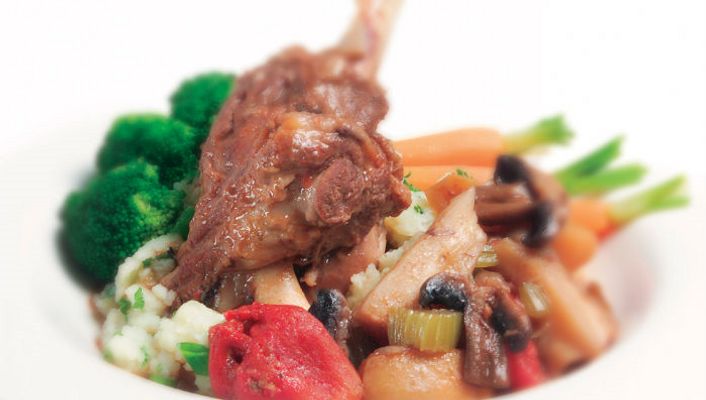 Ingredients
2 tsp olive oil
4 lamb shanks, tipped
pepper, to taste
2 tbs plain flour
2 cloves garlic, crushed
2 turnips, peeled and cut into chunks
2 parsnips, peeled and cut into chunks
2 sticks celery, sliced
150 g mushroom, sliced
400 g can no-added-salt diced tomatoes
1 2/3 cups water
a few fresh herbs (parsley, thyme, marjoram, oregano) or 1/2 tsp dried Italian herbs
Method
Preheat oven to 160°C.
Heat oil in a frypan. Toss lamb with flour and pepper in a plastic bag. Remove lamb, pan-fry until brown on all sides and place in a large casserole dish.
Add all vegetables except tomatoes to the pan and cook for 5 minutes, turning constantly until they begin to colour slightly.
Tip in remaining seasoned flour from the plastic bag. Add tomatoes and water and stir into vegetables. Add herbs. Bring to the boil and pour over lamb.
Cover closely with a lid and bake in oven for 2–2 ½ hours until meat is falling off the bones.
Recipe from Healthy Food Fast © State of Western Australia, 2012. Reproduced with permission.
Variation: 500g cubed chuck or blade steak may be used instead of lamb shanks.
Serving Suggestion: Serve with steamed, whole or mashed potatoes, broccoli florets and halved Brussels sprouts.
Healthy tip!
We are family! Enjoy some quality time together at the dinner table and switch off all other distractions.
Start to LiveLighter today
Become a member for free and receive your personalised meal plan.
Nutrition Information
| | per serving | per 100g |
| --- | --- | --- |
| Energy | 1038 kJ | 228 kJ |
| Protein | 23.1 g | 5.1 g |
| Fat, total | 7.9 g | 1.7 g |
| — saturated | 2.4 g | 0.5 g |
| Carbohydrate | 15.9 g | 3.5 g |
| — sugars | 9 g | 2 g |
| Sodium | 218.4 mg | 48.2 mg |
| Fibre | 6.1 g | 1.3 g |