Healthy Mac & Cheese Bake Recipe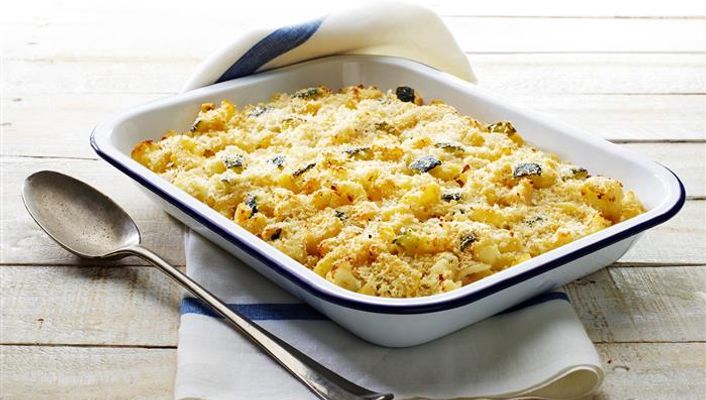 Ingredients
250 g high-fibre or wholegrain pasta
1/2 head cauliflower, cut into small florets
1 zucchini, chopped
2 tbs olive oil
1 onion, finely chopped
2 tbs plain flour
1 1/2 cups reduced-fat milk
to taste pepper
1 cup reduced-fat cheese, grated
1/3 cup panko bread crumbs
1/3 cup Parmesan cheese, grated
Method
Cook pasta in a large pot according to packet instruction. In the last 5-6 minutes of cooking, add the cauliflower florets and zucchini to the pot of boiling pasta. Drain and set aside.
Heat the oil in a saucepan and cook onions for 4-5 minutes until soft.
Add the flour to the pan and cook for 2 minutes, stirring. Gradually start adding the milk while stirring. (Hint: warm the milk in the microwave first to get a smoother sauce, quicker). Bring the sauce to the boil, then remove from the heat. Season with pepper and stir in grated cheese.
Combine the pasta, vegies and sauce.
Mix the breadcrumbs, parmesan and pepper in a separate bowl.
Put pasta, vegies and sauce in an oven proof dish, sprinkle with breadcrumb mixture and place under the grill for 5-10 minutes until golden and crunchy.
Variations
Blitz some of the cooked cauliflower and zucchini into a puree and fold into the cheese sauce if you want to hide some of the vegetables. Peeling the zucchini also makes it less visible.
Use peas, pumpkin, carrots, broccoli or whatever vegetable needs using up in this dish.
Healthy tip!
On a budget? If fresh produce is not available or is too expensive, try canned or frozen fruit and veg!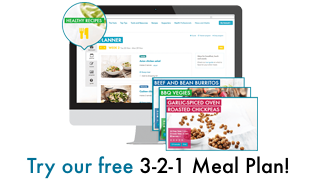 Nutrition Information
| | per serving | per 100g |
| --- | --- | --- |
| Energy | 2403 kJ | 543 kJ |
| Protein | 27.8 g | 6.3 g |
| Fat, total | 25.3 g | 5.7 g |
| — saturated | 9.4 g | 2.1 g |
| Carbohydrate | 54.3 g | 12.3 g |
| — sugars | 11 g | 2.5 g |
| Sodium | 529 mg | 119 mg |
| Fibre | 8.1 g | 1.8 g |