Ingredients
600 g sweet potato
1 tbs olive oil
to taste pepper
1/2 tsp smoked paprika, optional
fresh thyme or oregano leaves , optional
Method
Preheat oven to 230°C and line a baking tray with non-stick baking paper.
Cut sweet potato into sticks of roughly the same size (you can leave the skin on).
Add sweet potatoes, oil, pepper and paprika and herbs (if using) to a big bowl and mix to give an even covering.
Spread chips in a single layer on the tray. Bake for 10 minutes on top shelf of the oven.
Turn chips over and bake for a further 10 minutes, or until crisp.
Comment: TIP: Make double! Leftover sweet potato fries are great as a base for nacho fries, in a salad or to put in a frittata.
Healthy tip!
Use the left-over water from cooking vegetables to make stock or soup. It's full of vitamins!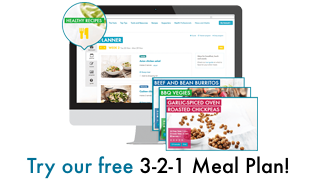 Nutrition Information
| | per serving | per 100g |
| --- | --- | --- |
| Energy | 720 kJ | 466 kJ |
| | 172 Cal | 111 Cal |
| Protein | 3.5 g | 2.3 g |
| Fat, total | 4.8 g | 3.1 g |
| — saturated | 0.8 g | 0.5 g |
| Carbohydrate | 25.8 g | 16.7 g |
| — sugars | 10.3 g | 6.6 g |
| Sodium | 18 mg | 12 mg |
| Fibre | 4.8 g | 3.1 g |