Healthy Lamb Shank & Vegetable Soup Recipe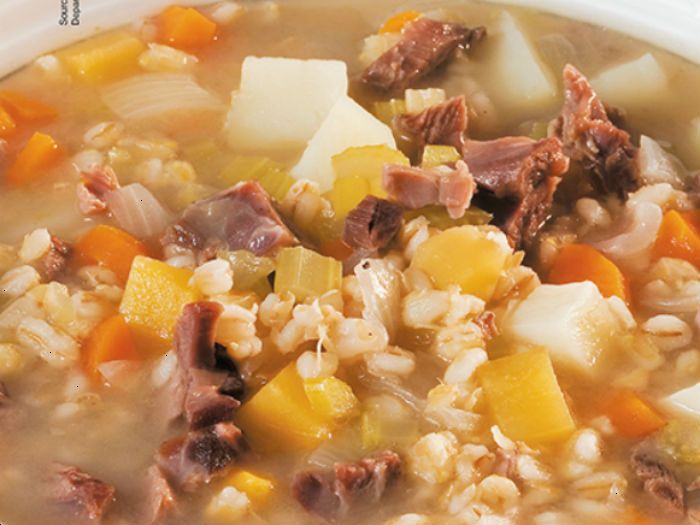 Ingredients
4 lamb shanks
6 cups water
1 cup barley or soup mix
4 medium potatoes , diced
1 large onion, chopped
1 small turnip, peeled and diced
2 sticks celery, finely chopped
1 carrot, peeled and finely chopped
pepper
Method
Place lamb shanks in the pot with water and simmer for 2 hours.
Remove shanks and strain excess stock and refrigerate until set, about 4 hours or overnight. Remove the fat off the top of the stock. Dispose of fat.
Shred the meat from the lamb shanks and dice. Place in a bowl to add later.
In a large saucepan bring stock water, 6 cups of water, 1 cup of barley or soup mix to the boil. Cover and set aside without cooking for 1 hour.
Remove any scum (fat) that has risen to the top.
Cook for ½ hour and then add chopped up potatoes, onion, turnip, celery and carrot. Cook for another ½ hour or until vegies are soft.
Add pepper and cooked diced meat.
Serve with bread or bread rolls
Recipe from Deadly Tucker cookbook (Aboriginal & Torres Strait Islander-FOODcents manual, 2006), North Metropolitan Health Service, Department of Health WA. Reproduced with permission.
Ingredients

Utensils

Place meat in the pot with water and simmer for 2 hours. Remove meat and strain excess stock.

Place meat in fridge until set. Throw away the fat floating on top. Shred the meat from the lamb shanks and dice. Place in a bowl to add later.

Place stock from fridge in a big saucepan, add 6 cups of water.

Add 1 cup of barley or soup mix to the stock, boil. Cover and set aside without cooking for 1 hour.

Throw away any scum (fat) that has risen to the top.

Cook for 30mins, then add chopped up potatoes, onion, turnip, celery and carrot.

Cook for another 30mis until vegies are soft. Add pepper and cooked diced meat.
Serving Suggestion: Serve with bread or bread rolls
Healthy tip!
Vegies are a great source of healthy nutrients. Try to include extra vegetables at lunch and dinner.
Start to LiveLighter today
Become a member for free and receive your personalised meal plan.
Nutrition Information
| | per serving | per 100g |
| --- | --- | --- |
| Energy | 1598 kJ | 263 kJ |
| Protein | 29.8 g | 4.9 g |
| Fat, total | 12.9 g | 2.1 g |
| — saturated | 4.7 g | 0.8 g |
| Carbohydrate | 32.9 g | 5.4 g |
| — sugars | 3.2 g | 0.5 g |
| Sodium | 87 mg | 14 mg |
| Fibre | 6.3 g | 1 g |