Healthy Chargrilled Beef With Avocado & Corn Salsa Recipe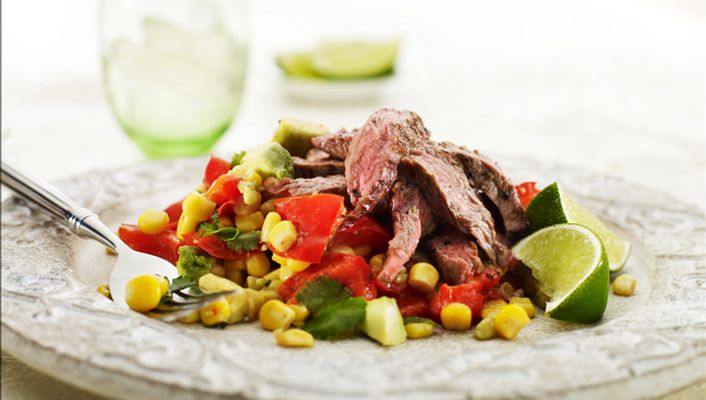 Ingredients
1 red capsicum, seeded and cut into 2-3cm pieces
1 large corn cob, husk intact
1/2 medium avocado, peeled, seeded and diced
2 tbs fresh coriander, chopped
2 tsp fresh lime juice
olive or canola oil spray
pepper
2 x 110 g lean beef, fat trimmed
1 lime, cut into wedges
Method
Preheat oven to 200°C (180°C fan forced).
Place capsicum on a non-stick baking tray and roast for 10-15 minutes or until tender.
Microwave the corn cob in its husk on HIGH (100%) for 3 minutes. Set aside to cool slightly. Remove the husk and silk. Cut kernels from the cob into a medium sized bowl. Discard cob.
For the salsa, add capsicum, avocado, coriander and lime juice to the corn.
Preheat a grill pan or heavy based frying pan over medium heat. Spray the steaks with oil and season with pepper. Cook steaks to your liking. Rest for 2 minutes. Slice steak into strips.
Divide salsa between plates and top with the steak slices. Serve with lime wedges.
Hint
Bottled lime juice can be used when fresh limes are not available.
**LIVELIGHTER SUMMER BBQ RECIPE COMPETITION FINALIST**
Submitted by Donna of The Vines
Variation
:
A drained can of no-salt-added corn kernels, or frozen corn, can be used in place of the fresh corn cob.
Healthy tip!
Vegies are a great source of healthy nutrients. Try to include extra vegetables at lunch and dinner.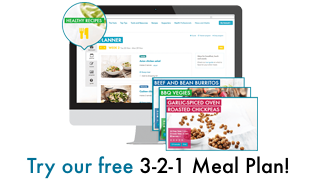 Nutrition Information
| | per serving | per 100g |
| --- | --- | --- |
| Energy | 1506 kJ | 565 kJ |
| | 360 Cal | 135 Cal |
| Protein | 28.2 g | 10.6 g |
| Fat, total | 20.7 g | 7.8 g |
| — saturated | 5 g | 1.9 g |
| Carbohydrate | 11.8 g | 4.4 g |
| — sugars | 5 g | 1.9 g |
| Sodium | 37.6 mg | 14.1 mg |
| Fibre | 7 g | 2.6 g |