Healthy Omelette Recipe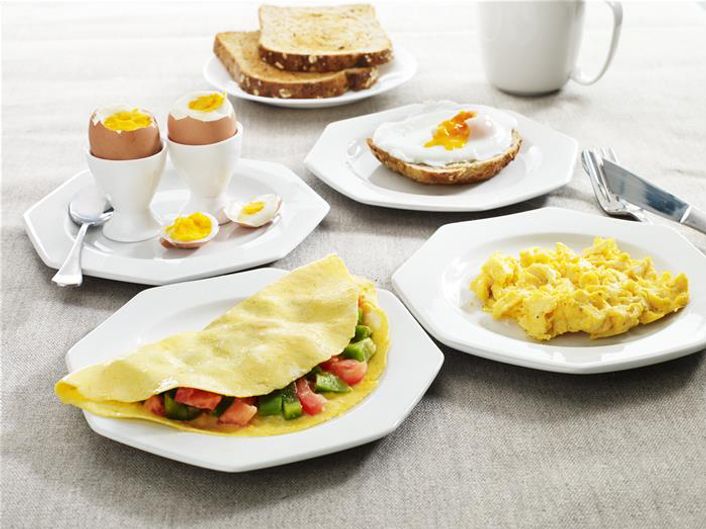 Ingredients
2 eggs
pepper, according to taste
1 tsp margarine
Method
Break the eggs into a bowl. Add some pepper and whisk with a fork to break up the yolk.
Place a frying pan over medium heat. Add a teaspoon of margarine and tilt the pan slightly so the margarine melts and covers the pan.
When the margarine has melted, pour the eggs into the pan. Let the mixture set slightly.
Tilt pan gently to let egg mixture spread and fill spaces. Leave to set for 1 minute.
Place desired filling over half of the omelette.
Using a spatula, gently fold the omelette over the filling.
Tilt the pan, and slide the omelette onto a serving plate.
Serving Suggestion: Serve with your desired choice of filling such as capsicum, tomato, mushrooms and cheese.
Healthy tip!
Love sweet coffee? Try reducing the amount of sugar you have a quarter of a teaspoon at a time to trick your taste buds!
Nutrition Information
| | per serving | per 100g |
| --- | --- | --- |
| Energy | 885 kJ | 692 kJ |
| Protein | 15.6 g | 12.2 g |
| Fat, total | 16.8 g | 13.1 g |
| — saturated | 6.7 g | 5.2 g |
| Carbohydrate | 0 g | 0 g |
| — sugars | 0 g | 0 g |
| Sodium | 185.6 mg | 145 mg |