Healthy Curried Egg Sandwich Recipe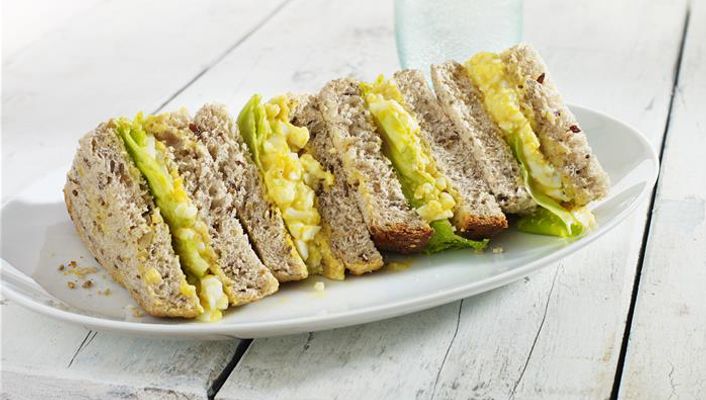 Ingredients
4 boiled eggs
4 tsp low-fat natural yoghurt
1/4 tbs curry powder
pepper, to taste
4 lettuce leaves
8 slices wholegrain bread
Method
Mash eggs, curry powder and yoghurt until combined.
Spread the egg mixture evenly over the 4 slices of bread.
Season with pepper.
Top each with a lettuce leaf and another slice of bread.
Cut the sandwich in half.
Healthy tip!
Try mustard instead of mayonnaise to add extra flavour to your salads and sandwiches.
Nutrition Information
| | per serving | per 100g |
| --- | --- | --- |
| Energy | 989 kJ | 767 kJ |
| Protein | 12.1 g | 9.4 g |
| Fat, total | 7.2 g | 5.6 g |
| — saturated | 1.8 g | 1.4 g |
| Carbohydrate | 27.7 g | 21.5 g |
| — sugars | 2.4 g | 1.9 g |
| Sodium | 328.5 mg | 254.8 mg |
| Fibre | 5.7 g | 4.4 g |