Healthy Beef Stew Recipe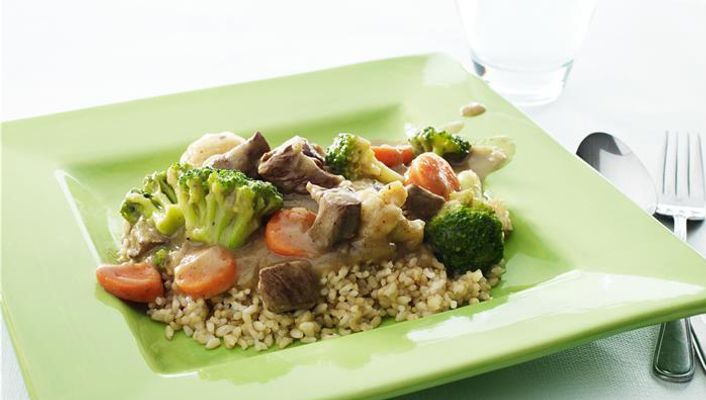 Ingredients
1 cup brown rice (uncooked)
7 cups water
1 tbs olive oil
500 g lean beef, cut into 2-3cm pieces
2 onions, thinly sliced
3 cloves garlic, crushed
1/4 cup plain flour
1 cup water, extra
3 cups reduced-salt beef stock
1 tsp ground coriander
1 tsp dried thyme
1 tsp dried rosemary
500 g frozen mixed vegetables
Method
Bring water and rice to boil in a saucepan.
When the water has come to a boil, cover the pan and reduce the heat.
Boil gently for 20-30 minutes, stirring occasionally.
Once rice is cooked drain and set aside.
On medium-high heat, add the olive oil to a large pot.
Add the beef and cook until browned.
Once browned, remove the beef and set aside.
Add the onions and garlic, cook for about 5 minutes, until softened.
Reduce heat to medium-low, and add the flour and cook for 2 minutes stirring often.
Add water, scraping any brown bits stuck to the bottom of the pan. The flour will start to thicken the water as it comes to a simmer.
Simmer water for 2 minutes, and then add the stock, coriander, thyme, rosemary, and the beef.
Bring back to a gentle simmer, cover and cook on very low heat for about 1 hour.
Add frozen vegetables and simmer, covered for another 15 minutes or until the meat and vegetables are tender.
Serve warm on top of rice.
Variation: Replace frozen vegetables with 500g of fresh vegetables, simmer for 30 minutes or until meat and vegetables are tender.
Healthy tip!
We are family! Enjoy some quality time together at the dinner table and switch off all other distractions.
Start to LiveLighter today
Become a member for free and receive your personalised meal plan.
Nutrition Information
| | per serving | per 100g |
| --- | --- | --- |
| Energy | 1532 kJ | 349 kJ |
| Protein | 24.2 g | 5.5 g |
| Fat, total | 7.6 g | 1.7 g |
| — saturated | 1.7 g | 0.4 g |
| Carbohydrate | 45.6 g | 10.4 g |
| — sugars | 4.7 g | 1.1 g |
| Sodium | 515.6 mg | 117.6 mg |
| Fibre | 8.8 g | 2 g |