Healthy Chocolate Zucchini Muffins Recipe
Ingredients
spray olive or canola oil spray
1/2 cup brown sugar
1/2 cup cocoa powder
1/2 tsp baking powder
1/2 tsp Baking soda (bicarbonate)
1 cup plain flour
1 cup wholemeal plain flour
3 eggs
200 mL reduced-fat plain yoghurt
2 tsp vanilla extract
3 tbs canola oil
2 cups zucchini, grated
1/2 cup sultanas
Method
Preheat oven to 180ºC (160ºC fan forced). Spray muffin tins with oil.
Place sugar in a large bowl and break up any lumps. Sift in cocoa, baking powder, bicarb and flours, returning husks from the sieve to the bowl.
Lightly beat eggs in a cup with a fork then add to flour mix with yoghurt, vanilla and oil. Stir to combine (mix will still be quite dry), then mix in zucchini and sultanas.
Spoon mixture into prepared muffin tins (makes 18) and bake for 20 minutes or until a skewer poked into the centre of a muffin comes out clean. Cool in tin for 5 minutes then turn onto a wire rack to cool completely.
Variations
Try other dried fruit like cranberries or raisins.
Add 2 tbs chopped nuts or seeds.
Serving Suggestion: >There will be little green flecks in the muffins. If this is a problem you can peel the zucchini. >Once completely cooled, place in an airtight container and keep for up to 3 days. >Freeze muffins in snap lock bags and keep for up to 3 months.
Comment: 1/2 cup brown sugar is about 80g. 1/2 cup cocoa powder is about 40g. 2 cups grated zucchini is about 300g. This recipe contains 1 tsp of added sugar per serving
Healthy tip!
Having a party? Serve vegie sticks and water crackers with salsa rather than high-fat chips and dips.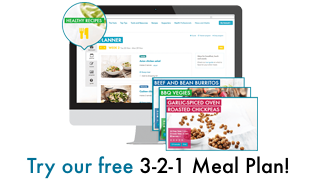 Nutrition Information
| | per serving | per 100g |
| --- | --- | --- |
| Energy | 599 kJ | 880 kJ |
| Protein | 4.4 g | 6.5 g |
| Fat, total | 5 g | 7.4 g |
| — saturated | 0.7 g | 1.1 g |
| Carbohydrate | 19 g | 28 g |
| — sugars | 8.9 g | 13 g |
| Sodium | 70 mg | 103 mg |
| Fibre | 2.2 g | 3.2 g |