Ingredients
8 sheets fresh filo pastry (from the fridge)*
spray olive or canola oil spray
3/4 cup reduced-fat smooth ricotta cheese
1/2 cup reduced-fat feta cheese
3 tomatoes, sliced
pepper, optional
fresh basil or rocket, to serve, optional
Method
Preheat oven to 200°C (180°C fan forced). Line a large baking tray with baking paper.
Lay the first sheet of filo on the tray, lightly spray with oil. Lay the next sheet over the top and lightly spray with oil again. Continue layering filo and oil spray until all 8 sheets are laid out. There's no need to spray the top layer with oil. Lightly press the stack down.
Gently spread the ricotta evenly over the filo, leaving a small border of bare pastry.
Crumble feta and lay tomatoes over the top of the ricotta. Season with plenty of cracked pepper.
Bake for 20 minutes or until filo is crispy.
Let cool slightly on the tray, then cut into pieces and sprinkle with freshly torn basil leaves or rocket if desired.
Variation
:
This recipe is a great base to use whatever vegetables are in season. Try zucchini ribbons with mint and lemon, caramelised onions with mushroom and thyme, rosemary roasted pumpkin or even strawberries with a dash of balsamic vinegar. The combinations are endless!
Ingredients
Comment
:
*A note on filo pastry: Frozen filo pastry often needs to be defrosted in the fridge overnight (or according to packet instructions). Filo found in the fridge section of the supermarket is ready to use and is less fiddly.
Healthy tip!
Having a party? Serve vegie sticks and water crackers with salsa rather than high-fat chips and dips.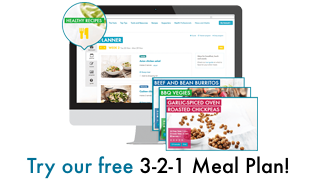 Nutrition Information
| | per serving | per 100g |
| --- | --- | --- |
| Energy | 632 kJ | 524 kJ |
| | 151 Cal | 125 Cal |
| Protein | 8.2 g | 6.8 g |
| Fat, total | 8.3 g | 6.8 g |
| — saturated | 2.9 g | 2.4 g |
| Carbohydrate | 9.6 g | 8 g |
| — sugars | 2.5 g | 2.1 g |
| Sodium | 297 mg | 246 mg |
| Fibre | 1.3 g | 1.1 g |