Healthy Homemade Muesli Recipe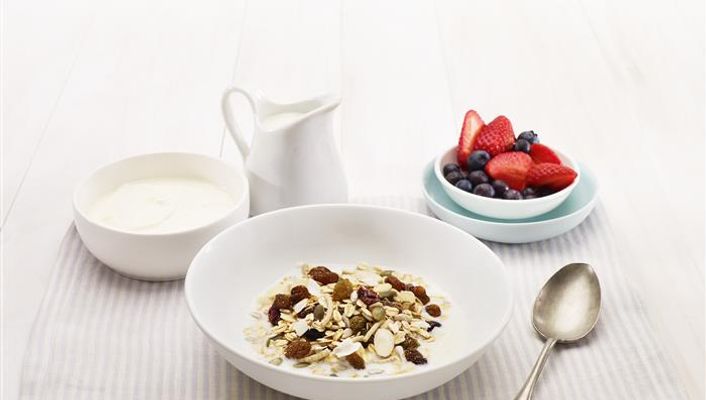 Ingredients
3 cups rolled oats
1/2 cup bran sticks (e.g. AllbranTM)
1/3 cup slivered almonds
1/3 cup pumpkin seeds
1/3 cup sunflower seeds
1/4 cup sultanas
1/4 cup dried cranberries
1/4 cup coconut, shredded or dessicated
Method
Mix all ingredients together
Store in an airtight container (at room temperature) for up to 6 months
Variation: You can easily substitute any of your favourite nuts such as walnuts or hazelnuts or dried fruits such as apricot, pawpaw, dried apple, raisins.
Serving Suggestion: Serve with low-fat milk or yoghurt. Add a burst of freshness by topping with fresh fruit.
Comment: Note: Nutrition information panel includes 1 cup of reduced-fat cow's milk for every serving of muesli (about 1/2 cup)
Healthy tip!
Simple switch idea: try reduced-fat milk, cheese and yoghurt.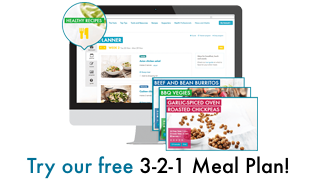 Nutrition Information
| | per serving | per 100g |
| --- | --- | --- |
| Energy | 1294 kJ | 423 kJ |
| | 309 Cal | 101 Cal |
| Protein | 15 g | 4.9 g |
| Fat, total | 11.8 g | 3.9 g |
| — saturated | 4 g | 1.3 g |
| Carbohydrate | 33.6 g | 11 g |
| — sugars | 18.5 g | 6 g |
| Sodium | 115 mg | 38 mg |
| Fibre | 4.5 g | 1.5 g |