Healthy Lamb Shank With Mash Recipe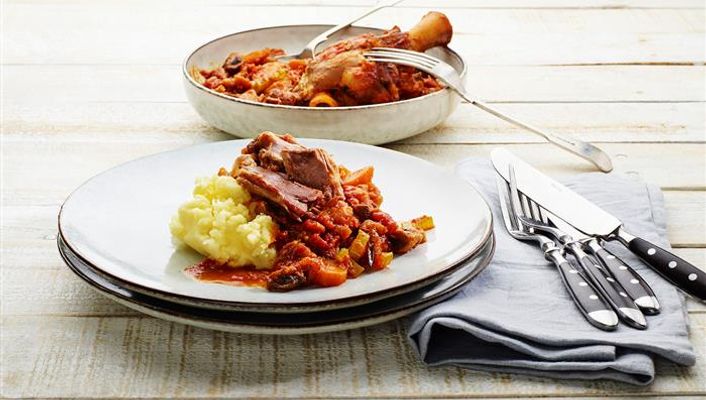 Ingredients
spray olive or canola oil spray
1 lamb shank
1 tbs plain flour
to taste pepper, to taste
1 onion, chopped
4 cloves garlic, chopped
1 stalk celery, chopped
1 carrot, chopped
10 mushrooms
1 x 400 g can no-added-salt diced tomatoes
1 tbs worcestershire sauce
1 tbs dried rosemary, or 15 cm if using fresh
1 tbs plum jam
1 cup water
1 tsp reduced-salt vegetable stock powder
2 potatoes, chopped
30 mL reduced-fat milk
Method
Preheat oven to 160°C.
Toss lamb with flour and pepper in a plastic bag. Heat oil in a large non-stick frypan.
Shake extra flour off lamb and pan-fry until brown on all sides (about 5 minutes) and place in a large casserole dish (best if dish has a lid).
Add all vegetables except tomatoes and potatoes to the frypan and cook for 5 minutes, stirring often until they begin to colour slightly.
Add the tomatoes, Worcestershire sauce, rosemary, jam, water, stock powder and leftover flour from the plastic bag. Stir well and bring to the boil.
Pour tomato-vegetable mixture over the lamb, cover with a lid or foil and bake in the oven for at least 2 hours. Remove the casserole a couple of times during cooking, and ladle the sauce over the top of the meat to baste. After 2 ½ to 3 hours the meat should fall off the bone.
To prepare mash, microwave or boil potatoes till a fork goes easily into the pieces. Add milk and pepper and mash well with a fork or potato masher until you get the texture you like.
Variation: Swap one of the potatoes for sweet potato or a cup of peas to add more colours to your plate
Ingredients for lamb shanks and mash

Toss lamb with flour and pepper in a plastic bag
Comment: *To make this dish gluten free, use gluten free flour *To make this dish seafood free, replace Worcestershire sauce with half soy sauce, half tomato sauce.
Healthy tip!
To eat less saturated fat, choose leaner cuts of meat and and trim the fat off meat before cooking.
Start to LiveLighter today
Become a member for free and receive your personalised meal plan.
Nutrition Information
| | per serving | per 100g |
| --- | --- | --- |
| Energy | 2103 kJ | 288 kJ |
| | 503 Cal | 69 Cal |
| Protein | 38 g | 5 g |
| Fat, total | 18 g | 3 g |
| — saturated | 6 g | 1 g |
| Carbohydrate | 39 g | 5 g |
| — sugars | 25 g | 3 g |
| Sodium | 685 mg | 94 mg |
| Fibre | 11 g | 2 g |