Healthy Roasted Cauliflower & Barley Salad Recipe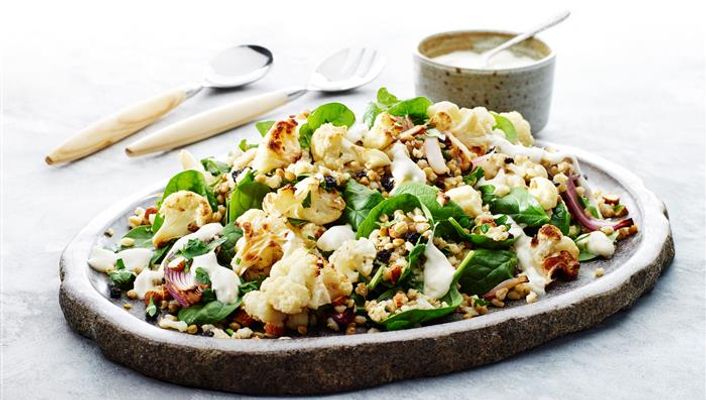 Ingredients
3/4 cup pearl barley, uncooked
water
1 head cauliflower, cut into florets
1 red onion, cut into wedges
spray olive or canola oil spray
1 1/2 tbs ground cumin
to taste pepper
1 1/2 cups low-fat natural or Greek yoghurt
1 x 400g can no-added-salt brown lentils, drained and rinsed
1/2 cup currants
1/2 cup parsley, chopped
2 cups rocket or baby spinach
1 tbs red wine vinegar
2/3 cup roasted almonds, chopped
Method
Preheat oven to 200°C and line a tray with baking paper.
Place barley into a medium saucepan and fill 2/3 way with water. Bring to the boil, then cover and simmer for 35 minutes or until tender. Drain and set aside to cool.
Place cauliflower and onion on the baking tray, spray with a little oil, sprinkle with half of the cumin and cracked pepper. Roast for 20 minutes, until golden brown.
In a small bowl, combine yoghurt and the remaining cumin.
Combine barley, cauliflower, onion, lentils, currants, parsley, baby spinach, vinegar and almonds onto a serving plate. Drizzle the yoghurt dressing over the top of the salad.
Variation: Instead of roasting cauliflower, blitz in a food processor until it's a chunky couscous texture and add raw to the salad. Swap dried fruit for fresh pomegranate seeds and almonds for other crunchy toppings, like pinenuts, hazelnuts or pumpkin seeds. Replace barley with another cooked grain such as brown rice, quinoa, buckwheat, wholemeal couscous or freekah.
Comment: *To make this dish gluten-free, replace barley with a gluten-free grain like quinoa or brown rice. *To make this dish dairy-free, replace yoghurt with a plain vegan yoghurt, or 2 tbs of tahini and some water or lemon juice to thin out. 2 cups of baby spinach is about 120g. 2/3 cup roasted almonds is about 75g. 3/4 cup pearl barley is about 130g raw.
Healthy tip!
Still hungry? Try a side of salad or vegies before going for seconds.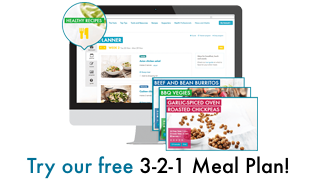 Nutrition Information
| | per serving | per 100g |
| --- | --- | --- |
| Energy | 2157 kJ | 437 kJ |
| Protein | 22.9 g | 4.6 g |
| Fat, total | 16.2 g | 3.3 g |
| — saturated | 3 g | 0.6 g |
| Carbohydrate | 60.2 g | 12.2 g |
| — sugars | 31.1 g | 6.3 g |
| Sodium | 206 mg | 42 mg |
| Fibre | 15.7 g | 3.2 g |