Healthy Sweet Potato Gnocchi With Roasted Tomato Cream Recipe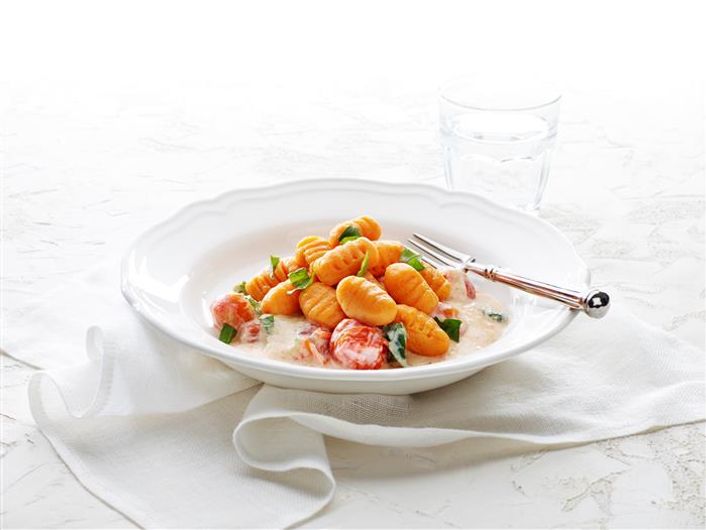 Ingredients
800 g sweet potato
1 cup plain flour
1 head garlic, whole
750 g cherry tomatoes
125 g reduced-fat smooth ricotta cheese
to taste pepper
1 cup basil leaves, to serve
Method
Preheat oven to 220ºC. Fill a large-sized saucepan with water and bring to the boil.
Begin roasting garlic and tomatoes for the sauce while preparing the gnocchi.
Gnocchi
Prick potatoes all over with a sharp knife, place on a plate and microwave on HIGH 100% for 10-12 minutes turning half way through, until flesh is tender in the centre.
Cut in half lengthways to let the steam/ moisture out and allow to cool. This is important as a cool, dry potato is much easier to work with.
Scoop flesh from skin, place into a medium sized-bowl and mash until smooth. Add half the flour to sweet potato and mix to incorporate. You may need to add a bit more flour, but try to use as little as possible.
Sprinkle a tablespoon of flour onto a clean work surface and knead potato mixture to form a dry dough which is slightly springy. If still sticky, add flour a tablespoon at a time as necessary.
Divide dough into four portions and roll each into a log of 2cm diameter. Use a knife to cut the roll into 1.5cm lengths to make about 20 gnocchi. Shape each into a rough ball. Gently press each with a floured fork to create traditional gnocchi grooves if desired. Repeat with remaining dough.
Place half the gnocchi into boiling water and cook until they rise to the surface, about 2 minutes. Remove with a slotted spoon and gently place into bowls on roast tomato sauce. Repeat with remaining gnocchi.
Roast tomato sauce
Wrap whole head of garlic (unpeeled) in foil and place with tomatoes into a shallow oven-proof dish. Roast for 20 - 25 minutes until skins blister and tomatoes are tender.
Squeeze garlic out of their skins, and mash with a fork or finely chop.
Mix together garlic, tomatoes and their juices, ricotta and pepper.
Divide sauce among serving bowls and top with cooked gnocchi and basil.
Variation: Microwaving in skins produces sweet potato which is dry. Alternatively steam or bake potatoes in their skins.
Ingredients

Gently press each dough portion with a floured fork to create traditional gnocchi grooves.
Serving Suggestion: To make nice, soft gnocchi, try to incorporate as little flour as possible. Just enough for the dough to be workable and not too sticky. This will depend on how much moisture is in the sweet potato.
Healthy tip!
Use the left-over water from cooking vegetables to make stock or soup. It's full of vitamins!
Start to LiveLighter today
Become a member for free and receive your personalised meal plan.
Nutrition Information
| | per serving | per 100g |
| --- | --- | --- |
| Energy | 1304 kJ | 313 kJ |
| Protein | 10.8 g | 2.6 g |
| Fat, total | 1.9 g | 0.5 g |
| — saturated | 0.7 g | 0.2 g |
| Carbohydrate | 56 g | 13.5 g |
| — sugars | 15.1 g | 3.6 g |
| Sodium | 76 mg | 18 mg |
| Fibre | 11.5 g | 2.8 g |