Healthy Rhubarb & Pear Crumble Recipe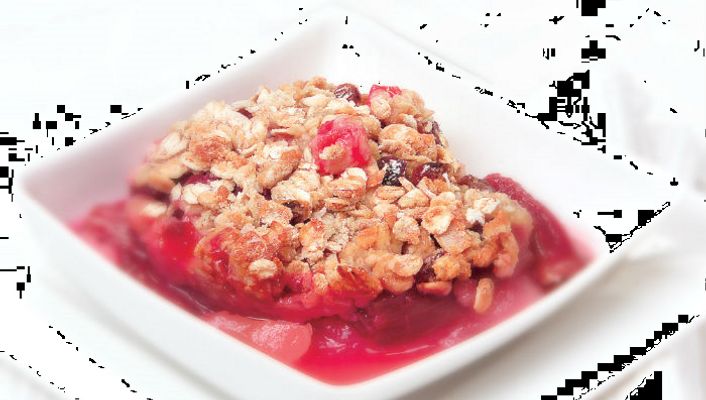 Ingredients
4 pears, peeled, cored and diced
2 cups rhubarb, diced
2 tbs sugar
2 tbs water
2 tbs honey
2 tsp margarine
1 1/2 cups untoasted muesli
1/2 cup plain flour
Method
Preheat oven to 180°C.
Place pears, rhubarb, sugar and water in a saucepan, cover and cook for 8–10 minutes until softened.
Spoon fruit into an ovenproof dish.
Combine honey and margarine in a small bowl and microwave on HIGH (100%) for 20 seconds.
In a separate bowl, combine muesli and flour.
Stir in honey mixture,mixing until the crumble resembles coarse breadcrumbs.
Spread over fruit and bake for 20–30 minutes until golden. Serve hot.
Recipe from Healthy Food Fast © State of Western Australia, 2012. Reproduced with permission.
Variation: Substitute nashi fruit or apples for pears.
Comment: This recipe contains 1 tsp of added sugar per serving
Start to LiveLighter today
Become a member for free and receive your personalised meal plan.
Nutrition Information
| | per serving | per 100g |
| --- | --- | --- |
| Energy | 908 kJ | 442 kJ |
| Protein | 4.4 g | 2.1 g |
| Fat, total | 2.6 g | 1.2 g |
| — saturated | 0.6 g | 0.3 g |
| Carbohydrate | 40.8 g | 19.9 g |
| — sugars | 24.5 g | 11.9 g |
| Sodium | 27.9 mg | 13.6 mg |
| Fibre | 7.2 g | 3.5 g |