Healthy Scrambled Eggs Recipe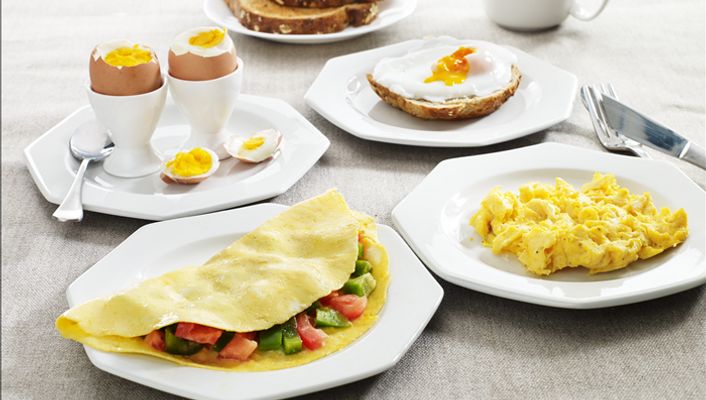 Ingredients
2 eggs
pepper, according to taste
1 tsp margarine
Method
Break the eggs into a bowl or mug. Add some pepper and whisk with a fork to break up the yolk.
Place a frying pan over medium heat. Add the margarine and tilt the pan slightly so the margarine melts and covers the pan.
When the margarine has melted, pour the eggs into the pan. Keep stirring the mixture with a wooden spoon to mix up the egg as it cooks.
When more than half of the mixture is lumpy and cooked, but there is still some liquid in the pan, turn off the heat and keep stirring. The pan will still be hot enough to cook the eggs perfectly.
Healthy tip!
Love sweet coffee? Try reducing the amount of sugar you have a quarter of a teaspoon at a time to trick your taste buds!
Nutrition Information
| | per serving | per 100g |
| --- | --- | --- |
| Energy | 784 kJ | 682 kJ |
| Protein | 12 g | 10.4 g |
| Fat, total | 15.5 g | 13.5 g |
| — saturated | 6.9 g | 6 g |
| Carbohydrate | 0.5 g | 0.4 g |
| — sugars | 0.5 g | 0.4 g |
| Sodium | 162.2 mg | 141 mg |