Healthy Cheesy Potato Frittata Recipe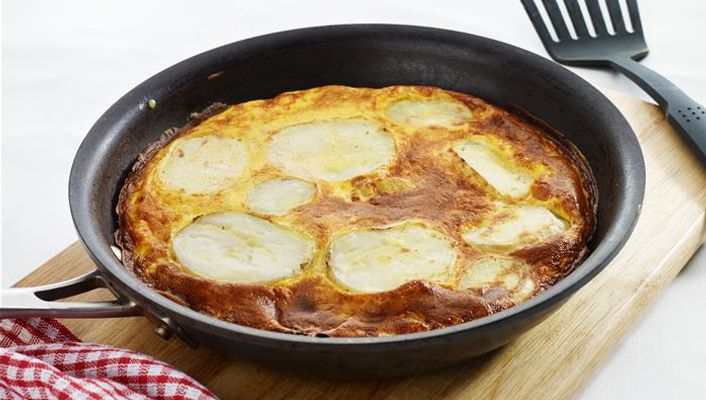 Ingredients
4 potatoes , sliced
8 eggs
1/4 cup reduced-fat milk
1 cup low-fat cheese, grated
pepper
olive or canola oil spray
2 onions, thinly sliced
1 clove garlic, crushed
Method
Preheat oven to 200°C (180°C fan forced).
Cook the potato slices in the microwave on high for 5 minutes, or boil until just tender.
Beat eggs and milk in a large bowl.
Add cheese and pepper.
Spray an oven-proof frying pan with oil.
Cook onion and garlic over low heat, stirring, for 5-6 minutes until soft.
Remove and add to the egg mixture, along with the potato.
Wipe pan clean, spray with oil and return to low heat..
Pour frittata mixture into pan. Gently pull away from sides of the pan using a blunt knife, allowing uncooked egg to run to edges.
Once cooked around the outside (about 2-3 minutes), transfer pan to the oven and bake for 15 minutes until set.
Turn out and cool.
Serving Suggestion: Serve frittata with garden salad.
Nutrition Information
| | per serving | per 100g |
| --- | --- | --- |
| Energy | 1073 kJ | 484 kJ |
| Protein | 19 g | 8 g |
| Fat, total | 13 g | 6 g |
| — saturated | 5 g | 2 g |
| Carbohydrate | 15 g | 7 g |
| — sugars | 3 g | 2 g |
| Sodium | 218 mg | 98 mg |
| Fibre | 3 g | 1 g |