Healthy Couscous Chickpea Salad Recipe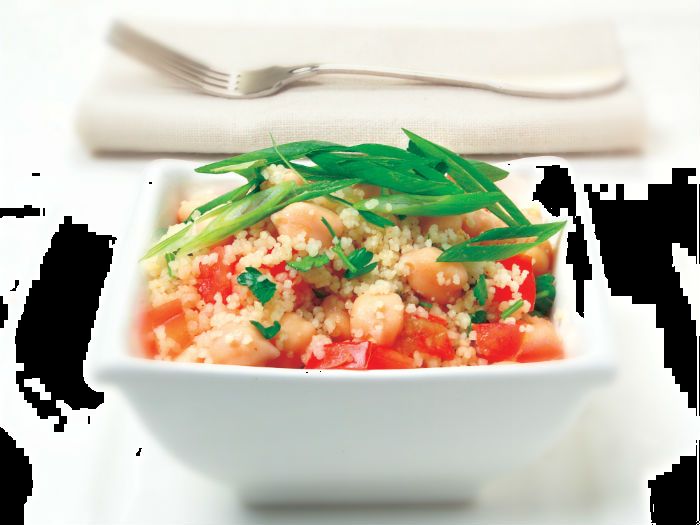 Ingredients
1 1/2 cups vegetable or chicken stock
2 tsp ground cumin or curry powder
1 1/2 cups couscous, uncooked
1 x 400g can no-added-salt chickpeas, drained
3 tomatoes, finely diced
1/4 cup parsley, chopped
2 spring onions (including green tops), sliced
rind of 1 lemon or orange, grated
2 oranges, juiced
1 tsp olive oil
Method
Bring stock to the boil and add cumin.
Remove from heat and mix in couscous.
Cover and allow to stand for 5 minutes until stock is absorbed.
Mix in remaining ingredients.
Serve warm or cold.
Recipe from Healthy Food Fast © State of Western Australia, 2012. Reproduced with permission.
Variations
Substitute tomatoes with 1 red capsicum.
Replace spring onions with ½ cup finely chopped red onion.
Healthy tip!
Try mustard instead of mayonnaise to add extra flavour to your salads and sandwiches.
Start to LiveLighter today
Become a member for free and receive your personalised meal plan.
Nutrition Information
| | per serving | per 100g |
| --- | --- | --- |
| Energy | 855 kJ | 414 kJ |
| Protein | 7.2 g | 3.5 g |
| Fat, total | 3.6 g | 1.8 g |
| — saturated | 0.4 g | 0.2 g |
| Carbohydrate | 33.1 g | 16 g |
| — sugars | 3.6 g | 1.8 g |
| Sodium | 270.9 mg | 131.2 mg |
| Fibre | 4.5 g | 2.2 g |