Healthy Beef Stew Recipe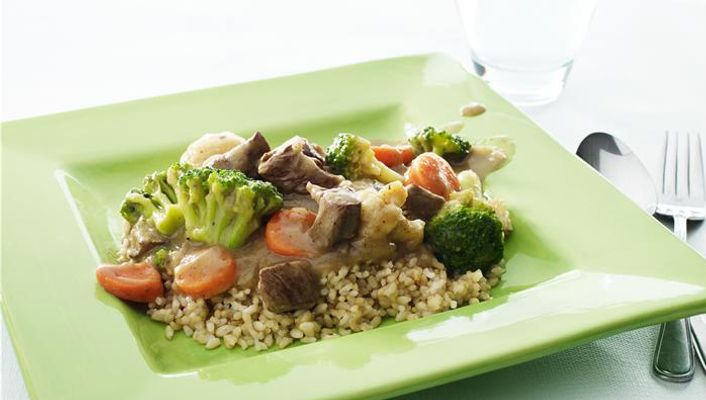 Ingredients
1 cup brown rice (uncooked)
7 cups water
1 tbs olive oil
500 g lean beef, cut into 2-3cm pieces
2 onions, thinly sliced
3 cloves garlic, crushed
1/4 cup plain flour
1 cup water, extra
3 cups reduced-salt beef stock
1 tsp ground coriander
1 tsp dried thyme
1 tsp dried rosemary
500 g frozen mixed vegetables
Method
Bring water and rice to boil in a saucepan.
When the water has come to a boil, cover the pan and reduce the heat.
Boil gently for 20-30 minutes, stirring occasionally.
Once rice is cooked drain and set aside.
On medium-high heat, add the olive oil to a large pot.
Add the beef and cook until browned.
Once browned, remove the beef and set aside.
Add the onions and garlic, cook for about 5 minutes, until softened.
Reduce heat to medium-low, and add the flour and cook for 2 minutes stirring often.
Add water, scraping any brown bits stuck to the bottom of the pan. The flour will start to thicken the water as it comes to a simmer.
Simmer water for 2 minutes, and then add the stock, coriander, thyme, rosemary, and the beef.
Bring back to a gentle simmer, cover and cook on very low heat for about 1 hour.
Add frozen vegetables and simmer, covered for another 15 minutes or until the meat and vegetables are tender.
Serve warm on top of rice.
Variation: Replace frozen vegetables with 500g of fresh vegetables, simmer for 30 minutes or until meat and vegetables are tender.
Healthy tip!
Swap a large portion of meat for a smaller portion with extra vegetables.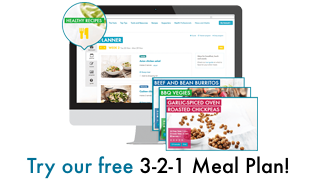 Nutrition Information
| | per serving | per 100g |
| --- | --- | --- |
| Energy | 1532 kJ | 349 kJ |
| Protein | 24.2 g | 5.5 g |
| Fat, total | 7.6 g | 1.7 g |
| — saturated | 1.7 g | 0.4 g |
| Carbohydrate | 45.6 g | 10.4 g |
| — sugars | 4.7 g | 1.1 g |
| Sodium | 515.6 mg | 117.6 mg |
| Fibre | 8.8 g | 2 g |