Healthy Moroccan Beef With Couscous Recipe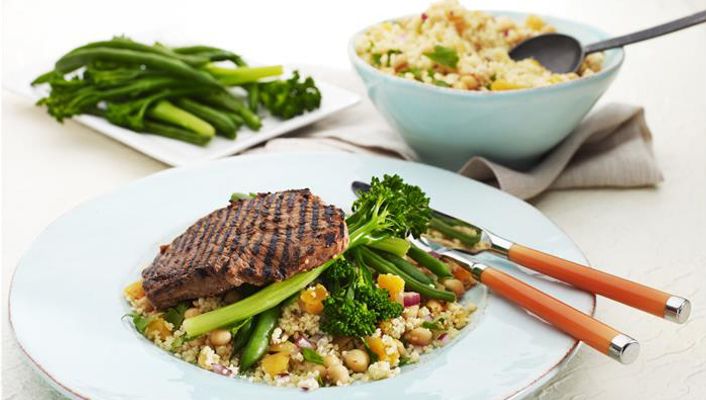 Ingredients
1/2 cup orange juice
3 tsp Moroccan seasoning
6 x 125 g lean beef, fat trimmed
1 cup boiling water
1/2 small red onion, finely chopped
10 dried apricots, chopped
1 cup couscous
1 tsp ground cumin or ground coriander
1 x 400g can no-added-salt chickpeas, drained
1/2 cup fresh coriander, chopped
2 cups green beans, trimmed and cut into 5cm lengths
1 head broccoli or broccolini, cut into florets
Method
Mix ¼ cup of orange juice and 2 teaspoons seasoning in a non-metal dish.
Add steaks, turning to coat in juice mixture. Cover and set aside for 20 minutes to marinate.
In a large heatproof bowl combine onion, apricots, couscous, cumin or dried coriander and remaining teaspoon of seasoning.
In a small bowl, combine remaining ¼ cup of orange juice and boiling water. Add the orange juice mixture to couscous mix, cover and set aside.
Place a metal steamer into a large saucepan with a few centimetres of water. Add beans and broccoli and bring to the boil. Steam with the lid on for 5-6 minutes or until bright green and tender.
Heat a large non-stick frypan. Drain steaks well and discard marinade. Cook for 3 minutes on each side or until cooked to your liking.
Remove from heat, cover and set aside to rest for 3 minutes.
Fluff couscous with a fork to separate grains and stir through chickpeas and coriander.
Hint
Microwave beans and broccoli in a covered dish with 1-2 tablespoons of water on HIGH (100%) for 4 minutes until just tender. Stir after 2 minutes to ensure even cooking.
Variations
Replace broccoli with a bunch of broccolini or 10 yellow squash.
Replace beef with lamb steak.
Healthy tip!
Vegies are a great source of healthy nutrients. Try to include extra vegetables at lunch and dinner.
Start to LiveLighter today
Become a member for free and receive your personalised meal plan.
Nutrition Information
| | per serving | per 100g |
| --- | --- | --- |
| Energy | 1400 kJ | 393 kJ |
| Protein | 36.7 g | 10.3 g |
| Fat, total | 6.2 g | 1.7 g |
| — saturated | 1.7 g | 0.5 g |
| Carbohydrate | 29 g | 8.2 g |
| — sugars | 5.6 g | 1.6 g |
| Sodium | 715.7 mg | 201.2 mg |
| Fibre | 6.9 g | 1.9 g |