Healthy Gourmet Vegetarian Sandwich Recipe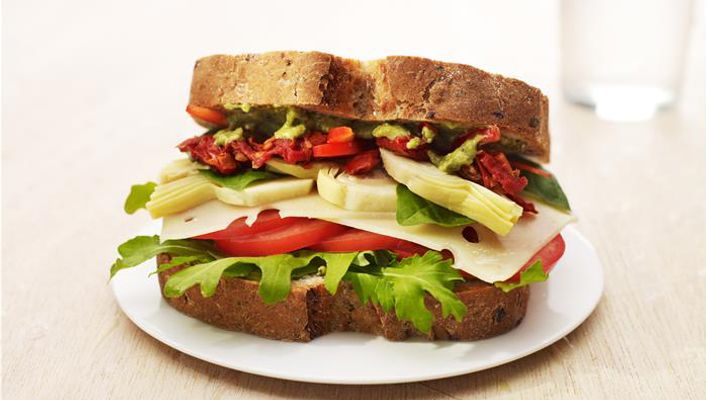 Ingredients
4 slices thick wholegrain bread
2 tsp basil pesto
1 cup baby spinach, rocket or butter lettuce leaves
2 small tomatoes, sliced
1/4 cup fat-free semi-sundried tomatoes, drained and chopped
1/4 cup marinated artichokes (97% fat-free), drained and chopped
1/4 small red capsicum, thinly sliced
8 basil leaves, roughly torn
4 slices reduced-fat Swiss cheese
Method
Spread 2 slices of bread with pesto.
Place half of the remaining ingredients on each slice before finishing with the remaining slices of bread.
Cut sandwich in half.
Variations
Replace Swiss cheese with 4 baby boccincini, thinly sliced.
Replace pesto with Baba ghanoush (eggplant dip) or hummus.
Serving Suggestion: Toast in a sandwich maker until heated through and golden brown.
Nutrition Information
| | per serving | per 100g |
| --- | --- | --- |
| Energy | 1671 kJ | 582 kJ |
| Protein | 25.1 g | 8.7 g |
| Fat, total | 20 g | 7 g |
| — saturated | 10.8 g | 3.8 g |
| Carbohydrate | 25.4 g | 8.9 g |
| — sugars | 6.6 g | 2.3 g |
| Sodium | 547.1 mg | 190.5 mg |
| Fibre | 8.8 g | 3.1 g |