Healthy Warm Roasted Vegetable Salad Recipe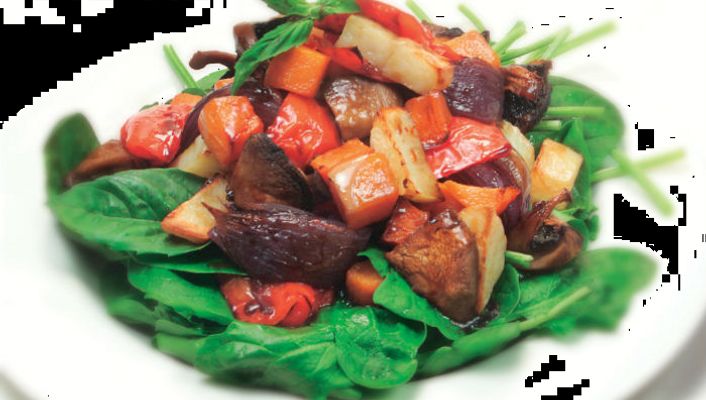 Ingredients
300 g butternut pumpkin, peeled and chopped into 2cm cubes
2 potatoes , peeled and chopped into 2cm cubes
1 capsicum, seeded and cut into 2-3cm pieces
1 onion, chopped into eighths
100 g flat mushrooms, quartered
olive or canola oil spray
1 bunch English spinach leaves, washed
1 tbs balsamic vinegar
1 tsp olive oil
1 tbs honey
1 tbs basil leaves, chopped
Method
Preheat oven to 220°C. Line a large baking tray with baking paper.
Place pumpkin and potato in a microwave dish with a little water, cover with cling film and cook in microwave on HIGH (100%) for 4 minutes.
Toss pumpkin, potato, capsicum, onion and mushrooms together then spread in a single layer over tray. Lightly spray with oil. Bake for 30-40 minutes, turning after 15 minutes.
Mix vinegar, olive oil, honey and basil in a small bowl to make the dressing.
When vegetables are cooked, pour over dressing.
Line serving dish with spinach leaves and pile roast vegetables on top. Serve immediately.
Recipe from Healthy Food Fast © State of Western Australia, 2012. Reproduced with permission.
Variation: Try including sweet potato, zucchini, carrots, beetroot, squash and baby eggplant when in season.
Serving Suggestion: Serve with roast meat.
Healthy tip!
Try mustard instead of mayonnaise to add extra flavour to your salads and sandwiches.
Start to LiveLighter today
Become a member for free and receive your personalised meal plan.
Nutrition Information
| | per serving | per 100g |
| --- | --- | --- |
| Energy | 604 kJ | 227 kJ |
| Protein | 6.8 g | 2.5 g |
| Fat, total | 1.8 g | 0.7 g |
| — saturated | 0.3 g | 0.1 g |
| Carbohydrate | 22.4 g | 8.4 g |
| — sugars | 11.5 g | 4.3 g |
| Sodium | 38 mg | 14.3 mg |
| Fibre | 5.6 g | 2.1 g |