Healthy Fruity Muffins Recipe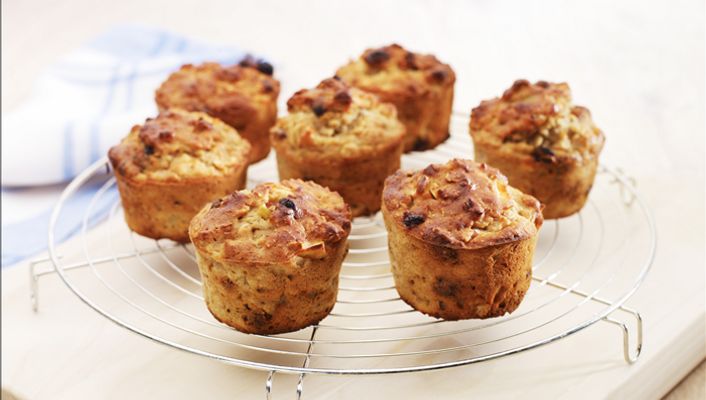 Ingredients
olive or canola oil spray
1 1/2 cups self-raising flour
1/2 tsp baking powder
1/2 tsp Baking soda (bicarbonate)
1 tbs caster sugar
1/2 cup bran sticks (e.g. AllbranTM)
1/2 cup rolled oats
1/2 cup sultanas
1 apple, core removed and diced, skin left on
3/4 cup buttermilk
1 egg
2 ripe bananas, mashed
Method
Preheat oven to 200ºC (180ºC fan forced).
Lightly spray muffin tins with oil or line with paper cases.
Sift flour, baking powder and bicarbonate of soda into a large bowl, returning the husk remaining in the sieve to the bowl.
Add sugar, bran, oats, sultanas and apple and mix until well combined.
Place buttermilk, egg and mashed bananas in a bowl and mix with a fork.
Pour banana mixture into dry ingredients and gently fold together until just combined.
Spoon into prepared muffin pan.
Bake for 15 minutes for mini-muffins or 20 minutes for larger muffins until firm and a knife inserted into the centre comes out clean.
Allow to cool in tin for 5 minutes then turn onto a wire rack.
Hint
Muffins freeze well in snap-lock bags, but are best eaten on the day they are made.
Variation
:
Use currants, dried cranberries or chopped dried apricots instead of sultanas. Replace apple with pear to vary the flavour. Substitute for buttermilk - add 1 tsp white vinegar to 3/4 cup low-fat milk.
Comment
:
This recipe contains 1/3 tsp of added sugar per serving
Healthy tip!
Having a party? Serve vegie sticks and water crackers with salsa rather than high-fat chips and dips.
Start to LiveLighter today
Become a member for free and receive your personalised meal plan.
Nutrition Information
| | per serving | per 100g |
| --- | --- | --- |
| Energy | 659 kJ | 614 kJ |
| | 158 Cal | 147 Cal |
| Protein | 4.7 g | 4.3 g |
| Fat, total | 1.7 g | 1.6 g |
| — saturated | 0.5 g | 0.5 g |
| Carbohydrate | 29.4 g | 27.3 g |
| — sugars | 12.7 g | 11.8 g |
| Sodium | 294 mg | 273.8 mg |
| Fibre | 3.4 g | 3.2 g |