Healthy Poached Egg With Asparagus Recipe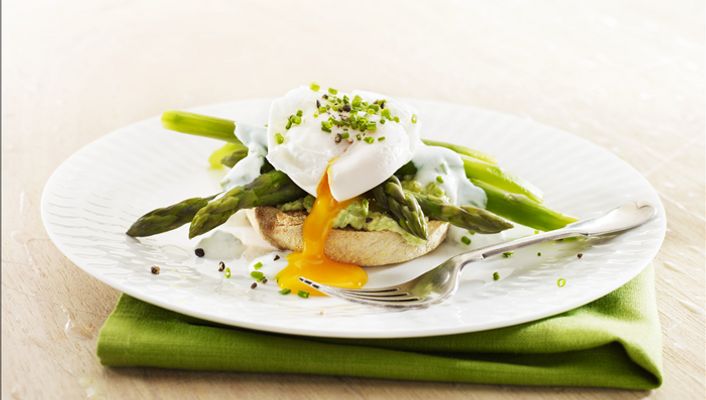 Ingredients
1/3 cup low-fat natural yoghurt
1 tbs lemon juice
2 tsp white vinegar
1 tbs chives, chopped
2 bunches asparagus, ends trimmed
2 tsp white vinegar, extra
2 eggs, at room temperature
1 wholegrain English muffin, split
1/2 small avocado, peeled and stoned
pepper
chives, chopped, to serve
Method
To make dressing, combine yoghurt, lemon juice, vinegar and chives in a small bowl. Divide between two small bowls.
Fill a large, deep frypan with water and bring to the boil. Add asparagus and simmer over medium heat for 2 minutes or until bright green and tender. Refresh in tap water, drain and set aside.
Bring frypan back to the boil and add extra vinegar. Break an egg into a cup or saucer. Keep water just simmering, then stir in one direction to create a whirlpool. Tip egg into the centre of the pan. Cook without stirring for 2-3 minutes for a soft yolk or 3-4 minutes for a firm-set yolk. Remove the cooked egg with a slotted spoon and drain on a plate lined with paper towels; cover to keep warm. Repeat with remaining egg.
Toast English muffin and spread each half with avocado. Place on a plate with asparagus and dressing. Top muffin with poached egg, season with black pepper and sprinkle with extra chives. Serve immediately.
Hint
Microwave asparagus in a covered dish with 1 tablespoon water on HIGH (100%) for 2 minutes until just tender. Alternatively, spray with olive or canola oil spray and barbeque for 1-2 minutes turning frequently until slightly charred.
Variation
:
To poach eggs using a microwave, half fill a coffee mug (or similar) with tap water and a very small splash of white vinegar. Crack egg into the mug, without breaking the yolk. Place the mug in the microwave for 1 minute on high. If you start to hear crackling/popping noises, stop the microwave and check the egg to see if it's cooked. For a thoroughly cooked egg, place in microwave for a further 30 seconds. Discard hot water and serve.
Healthy tip!
Simple switch idea: try reduced-fat milk, cheese and yoghurt.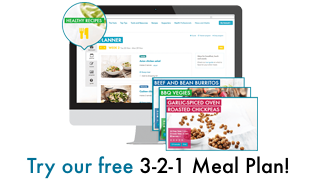 Nutrition Information
| | per serving | per 100g |
| --- | --- | --- |
| Energy | 1393 kJ | 642 kJ |
| | 333 Cal | 153 Cal |
| Protein | 13.5 g | 6.2 g |
| Fat, total | 22.3 g | 10.3 g |
| — saturated | 5.7 g | 2.6 g |
| Carbohydrate | 17.7 g | 8.2 g |
| — sugars | 4.7 g | 2.2 g |
| Sodium | 241.9 mg | 111.6 mg |
| Fibre | 9.1 g | 2.2 g |