Healthy Moussaka Recipe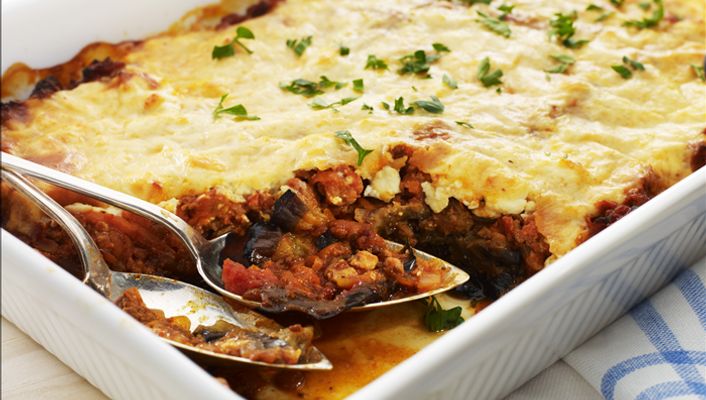 Ingredients
1 eggplant, cut into 1cm slices
400 g lean lamb mince
1 large brown onion, finely chopped
2 cloves garlic, crushed
1 large carrot, peeled and grated
425 g can crushed tomatoes
1 tbs no-added-salt tomato paste
1 bay leaf
olive or canola oil spray
1 tbs parsley, chopped (optional)
1 1/4 cups reduced-fat milk
1 1/2 tbs plain flour
15 g Parmesan cheese, grated
1 cup reduced-fat ricotta cheese
pinch cayenne pepper
pinch ground nutmeg
Method
Preheat oven to 200°C (180°C fan forced).
Sprinkle eggplant with salt and leave for 30 minutes.
Heat non-stick frypan and cook lamb over medium-high. Heat until browned.
Remove lamb and cook the onion and garlic in meat juices until softened.
Return the meat, add carrot, tomatoes, tomato paste and bay leaf, cover and simmer for 15–20 minutes.
Heat the grill. Rinse eggplant slices with water and pat dry with paper towels. Spray eggplant lightly with oil and grill until golden on each side.
Lay half the eggplant in a rectangle baking dish (approx. 30cm x 20cm). Cover with half the meat sauce. Repeat.
In a saucepan, mix half a cup of milk with flour until smooth. Stir in remaining milk. Cook, stirring, over low heat until thickened. Remove from heat and stir through Parmesan cheese. Stir in ricotta, cayenne pepper and nutmeg.
Pour over dish and bake for 40–45 minutes until golden brown.
Sprinkle the chopped parsley, if using, over the top before serving.
Recipe from Healthy Food Fast © State of Western Australia, 2012. Reproduced with permission
Serving Suggestion: Serve with Greek Salad.
Healthy tip!
To eat less saturated fat, choose leaner cuts of meat and and trim the fat off meat before cooking.
Start to LiveLighter today
Become a member for free and receive your personalised meal plan.
Nutrition Information
| | per serving | per 100g |
| --- | --- | --- |
| Energy | 1242 kJ | 353 kJ |
| Protein | 25.7 g | 7.3 g |
| Fat, total | 13.7 g | 3.9 g |
| — saturated | 6.4 g | 1.8 g |
| Carbohydrate | 13.9 g | 4 g |
| — sugars | 11.5 g | 3.3 g |
| Sodium | 301 mg | 86 mg |
| Fibre | 5 g | 1.4 g |