Healthy Tropical Fruit Jelly Recipe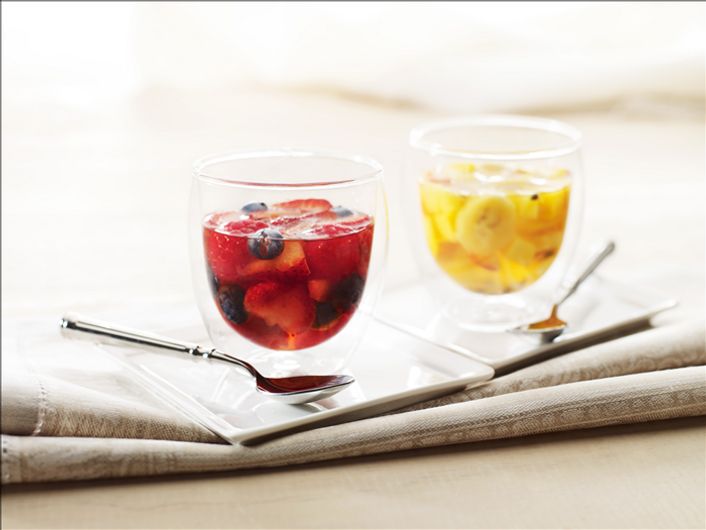 Ingredients
2 cups unsweetened apple juice
3 tsp powdered gelatine
1/2 tsp coconut essence, optional
1 medium peach, diced or 3/4 cup canned peaches in natural juice, drained
1 small banana, peeled and diced
1/2 small mango, peeled, seeded and diced
pulp of 2 passionfruit
Method
Place ½ cup juice and gelatine into a 1-litre microwave safe jug. Microwave on HIGH for 1 minute to boil and dissolve gelatine.
Mix well while pouring in remaining juice and essence.
Divide fruit among four 250ml (1-cup) capacity serving glasses.
Pour juice over fruit and carefully stir with a teaspoon to distribute fruit through jelly.
Cover each glass with plastic wrap and refrigerate for 4 hours or overnight until set.
Hint
These jellies are best made 6 to 8 hours before serving. If left for more than 24 hours, the fruit will begin to soften in the jelly.
Variation: Use any fruit you like in this recipe, except pineapple, pawpaw or kiwifruit, which contain an enzyme which may prevent the gelatine from setting.
Serving Suggestion: For children, serve jelly in plastic cups or orange halves.
Nutrition Information
| | per serving | per 100g |
| --- | --- | --- |
| Energy | 445 kJ | 200 kJ |
| Protein | 3.3 g | 1.5 g |
| Fat, total | 0.2 g | 0.1 g |
| — saturated | 0 g | 0 g |
| Carbohydrate | 21.4 g | 9.6 g |
| — sugars | 20.5 g | 9.2 g |
| Sodium | 19.9 mg | 9 mg |
| Fibre | 3 g | 1.4 g |