Healthy Potato Topped Beef & Mushroom Pie Recipe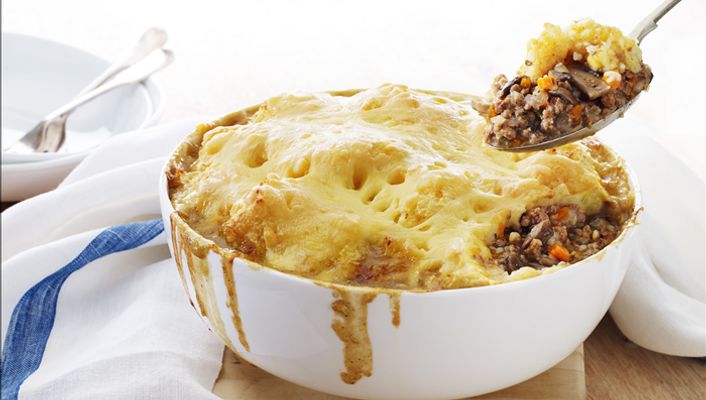 Ingredients
olive or canola oil spray
2 onions, peeled and diced
2 carrots, peeled and finely chopped
2 cloves garlic, crushed
1 kg potatoes , peeled and chopped into 2cm cubes
400 g lean beef mince
1 tbs plain flour
400 g mushroom, sliced
2 tbs fresh thyme leaves or 1 teaspoon mixed dried herbs
pepper
250 mL salt-reduced beef or chicken stock
100 mL reduced-fat milk
1 cup reduced-fat cheddar cheese, grated
Method
Spray a large non-stick saucepan with oil and place on medium to high heat.
Cook onion and carrot for 3 minutes, stirring occasionally; add garlic and stir 1 minute.
Place potatoes covered with water in a large saucepan over high heat, bring to the boil and simmer for 10 minutes until soft.
Add mince to onion mixture and brown for 5 minutes, stirring to break up lumps.
Sprinkle over flour, season with pepper and stir well; mix in mushrooms, thyme and add stock.
Reduce heat to medium; simmer covered for 15 minutes, or longer if time permits, stirring occasionally until thickened slightly.
Drain cooked potatoes and mash with milk until smooth.
Divide meat mixture between 4 small 1½ -cup capacity overproof bowls. Spread mash evenly over mince to the edge of each dish. Sprinkle with cheese and place under a preheated grill for 5 minutes or until browned lightly.
Hint
Alternatively, bake in a 2 litre capacity overproof dish. Pour meat mixture into dish and spread mash evenly over mince to the edge of dish. Sprinkle with cheese and bake in an oven preheated to 190 °C (170°C fan forced) for 30-40 minutes.

Please note: There is a misprint in the Winter 2013 booklet. If you are grilling the pies in 4 small ovenproof bowls or ramekins, you do not need to preheat the oven. Enjoy!
Variation: To vary flavour, add 2 teaspoons of curry powder or a 400g can no-added salt diced tomatoes and 2 tablespoons no-added-salt tomato paste.
Healthy tip!
To eat less saturated fat, choose leaner cuts of meat and and trim the fat off meat before cooking.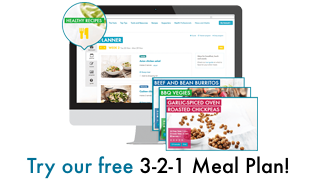 Nutrition Information
| | per serving | per 100g |
| --- | --- | --- |
| Energy | 2783 kJ | 431 kJ |
| Protein | 51 g | 8 g |
| Fat, total | 30 g | 5 g |
| — saturated | 9 g | 1 g |
| Carbohydrate | 41 g | 6 g |
| — sugars | 12 g | 2 g |
| Sodium | 607 mg | 94 mg |
| Fibre | 11 g | 2 g |