Healthy Fast Fruit & Custard Recipe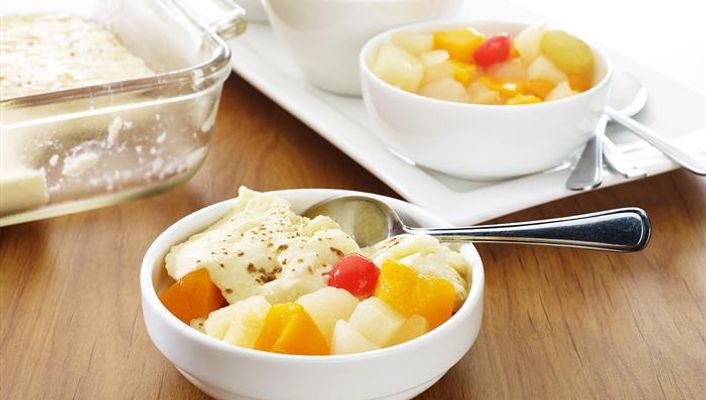 Ingredients
2 cups reduced-fat milk
3 eggs
1/4 cup sugar
1/2 tsp vanilla essence
sprinkle ground cinnamon, optional
800 g fresh or canned fruit
Method
In a microwave safe jug heat the milk on HIGH (100%) for 90 seconds and then stir. Microwave for another 90 seconds.
In a separate bowl, beat the eggs, sugar and vanilla together. Gently whisk warmed milk into the egg mixture. Stirring all the time, strain this mix into a 2 litre microwave dish and sprinkle with cinnamon.
Cook in microwave on MEDIUM (50%) for 4 minutes. Stir and then cook on MEDIUM (50%) for another 5 minutes. Stand for 5 minutes.
Divide the mixed fruit between 4 bowls. Spoon custard over the top and serve immediately.
Variation: This custard can be baked in a preheated oven at 160°C in a single dish for 60 minutes or until a knife inserted in the centre comes out clean.
Start to LiveLighter today
Become a member for free and receive your personalised meal plan.
Nutrition Information
| | per serving | per 100g |
| --- | --- | --- |
| Energy | 976 kJ | 308 kJ |
| Protein | 11.1 g | 3.5 g |
| Fat, total | 5.6 g | 1.8 g |
| — saturated | 2.5 g | 0.8 g |
| Carbohydrate | 32.2 g | 10.2 g |
| — sugars | 32.2 g | 10.1 g |
| Sodium | 220.6 mg | 69.6 mg |
| Fibre | 3 g | 0.9 g |