Healthy Japanese Crab Pancakes Recipe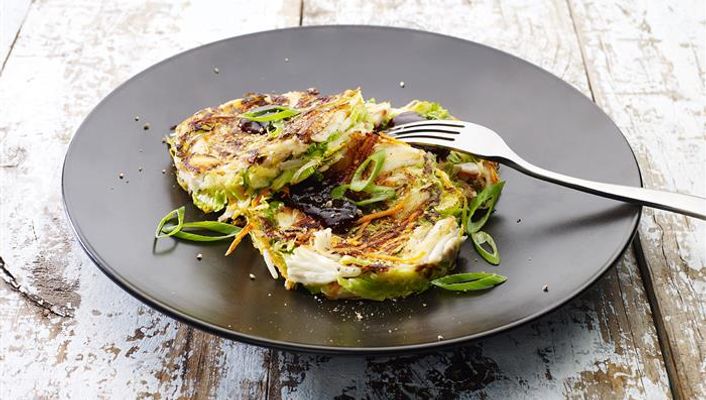 Ingredients
3 spring onions (including green tops), sliced
200 g green cabbage, core removed, finely shredded
150 g sweet potato, skin on, grated
1 cup bean sprouts
200 g raw or cooked crab meat
1/2 cup wholemeal plain flour
1/4 cup water
1 egg
olive or canola oil spray
1 tbs hoisin sauce, to serve
pepper
Method
Reserve ½ cup sliced spring onion green tops and place remainder in a large bowl with cabbage, sweet potato, bean sprouts and crab meat.
Sift flour over vegetables then mix to combine.
Break egg in a cup with ¼ cup water and whisk with a fork. Pour over vegetables and stir well to form a dry mix.
Heat a large non-stick frypan over medium-high heat and spray liberally with oil. Place ¼ mixture (1 cup) on one side of the pan and press down with a spatula to create a pancake of 1½ cm thickness and 10cm diameter.
Add another ¼ mixture to the pan then place lid on and turn down to medium heat.
Cook for 6 minutes or until the bottom side is golden and firm.
Lift each pancake and spray with oil then flip and brown on reverse side for 4 minutes.
Transfer to a plate, keep warm and repeat with remaining mixture.
To serve, thinly spread each pancake with a teaspoon of hoisin sauce and sprinkle with reserved spring onions and pepper.
Comment: This recipe makes 4 pancakes. This would be enough for 4 people as an entree, or 2 as a main course.
Healthy tip!
We are family! Enjoy some quality time together at the dinner table and switch off all other distractions.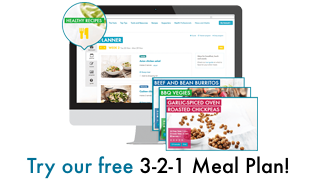 Nutrition Information
| | per serving | per 100g |
| --- | --- | --- |
| Energy | 825 kJ | 382 kJ |
| | 197 Cal | 91 Cal |
| Protein | 13.7 g | 6.4 g |
| Fat, total | 4.5 g | 2.1 g |
| — saturated | 0.7 g | 0.3 g |
| Carbohydrate | 22.9 g | 10.6 g |
| — sugars | 6.9 g | 3.2 g |
| Sodium | 426.3 mg | 197.6 mg |
| Fibre | 5.3 g | 2.5 g |