Ingredients
2 onions, chopped
2 capsicums, chopped
2 x 400g cans baked beans (Mexican flavoured)
400 g skinless chicken breast, sliced in half lengthways and chopped
1 cup reduced-fat mozzarella cheese, grated
Method
Preheat oven to 220°C (200°C fan-forced).
Combine onion, capsicum and canned beans in a large ovenproof dish.
Place chicken pieces into bean mix and press down so they are covered by sauce.
Bake for 20 minutes, then remove foil, sprinkle with cheese and bake for a further 5 – 10 minutes until chicken is cooked through and cheese has browned.
Divide between plates and serve immediately.
Variations
Add chilli flakes and fresh coriander for extra flavour.
Mexican flavoured baked beans are usually in the supermarket with the baked beans. If unavailable, swap for:
- No-added-salt baked beans + 1 tablespoon smoked paprika + 1 teaspoon ground coriander
- Red kidney beans or other beans + jar of salsa
Ingredients
Serving Suggestion: Serve with tortillas, bread or rice.
Comment: *To make the dish dairy-free replace the mozzarella cheese with a dairy-free cheese alternative or swap for a breadcrumb and herb topper.
Healthy tip!
We are family! Enjoy some quality time together at the dinner table and switch off all other distractions.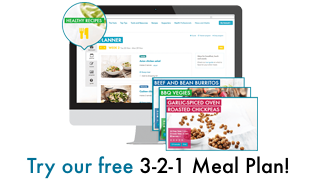 Nutrition Information
| | per serving | per 100g |
| --- | --- | --- |
| Energy | 1859 kJ | 385 kJ |
| Protein | 43.9 g | 9.1 g |
| Fat, total | 10.5 g | 2.2 g |
| — saturated | 5.3 g | 1.1 g |
| Carbohydrate | 29.5 g | 6.1 g |
| — sugars | 12.7 g | 2.6 g |
| Sodium | 999 mg | 207 mg |
| Fibre | 14.9 g | 3.1 g |