Healthy Muesli Bar Recipe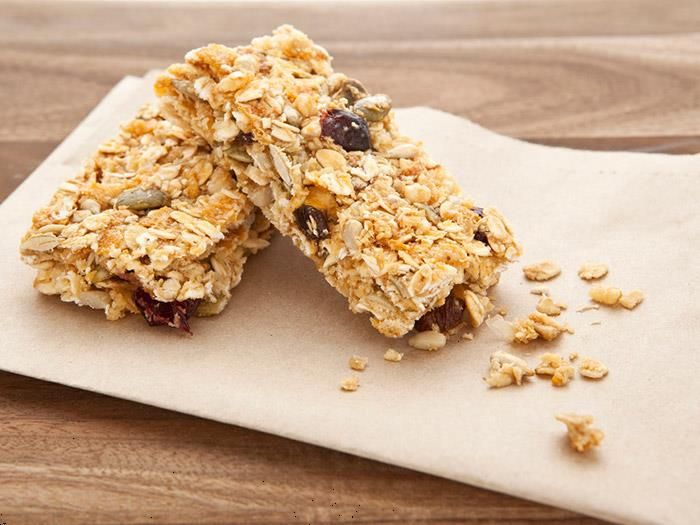 Ingredients
2 tbs margarine
2 tbs honey
1 tbs brown sugar
1 1/2 cups rolled oats
1 cup plain cereal eg. corn flakes, crushed Weetbix, rice bubbles, bran
4 tbs mixed seeds eg. pumpkin, sunflower, sesame
1/2 cup dried fruit eg. apple, apricot, cranberry, sultana, mango, fig, pineapple
1 egg white
Method
Preheat oven to 160°C and line a small tray or loaf tin with baking paper.
Put the margarine, sugar and honey in a small microwave safe bowl and heat for 10 seconds at a time till runny.
Mix all the ingredients together in a large bowl.
Pour the mixture into the tray and press the mixture down as hard as you can with your hands or a large spoon. Rub a little oil on your hands/ spoon to stop the mixture sticking. Spend a few minutes doing this really well as it will help hold the muesli bar together.
Bake for 40-50 mins till golden. As soon as you take the pan out of the oven press the mixture down with the spoon again.
Use a large knife the chop into 12 pieces while still a little warm. The mixture will get harder as it cools.
Comment: Storage: Store in an airtight container or zip-lock bag in the freezer for up to 3 months. They are ready to eat straight out of the freezer.
Healthy tip!
Having a party? Serve vegie sticks and water crackers with salsa rather than high-fat chips and dips.
Start to LiveLighter today
Become a member for free and receive your personalised meal plan.
Nutrition Information
| | per serving | per 100g |
| --- | --- | --- |
| Energy | 513 kJ | 1500 kJ |
| Protein | 2.8 g | 8.2 g |
| Fat, total | 4.4 g | 12.9 g |
| — saturated | 0.8 g | 2.4 g |
| Carbohydrate | 17.5 g | 51.2 g |
| — sugars | 10.2 g | 29.7 g |
| Sodium | 41 mg | 119 mg |
| Fibre | 1.8 g | 5.2 g |