Healthy Strawberry & Mint Sparkling Water Recipe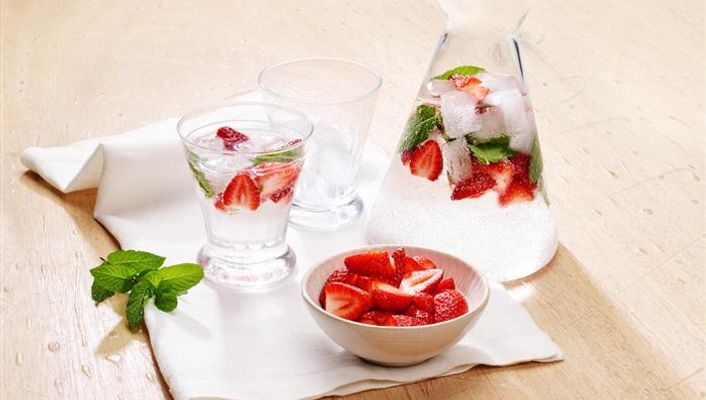 Ingredients
1/2 250g punnet strawberries, washed, top removed, halved
1 cup mint leaves, washed
1 L still or sparkling water, chilled
1 tray ice cubes
Method
Pull mint leaves from stem.
Place ice cubes, strawberries and mint leaves in the bottom of a clear jug. You can also place ingredients directly into glasses.
Fill with still or sparkling water.
Variations
Try other fruit and herb combinations like lemon slices and thyme, frozen blackberries and basil, blueberries and sage, or peach and rosemary.
Add cut up fruit like kiwifruit, lime, pineapple or strawberries to an ice cube tray, fill with tap water, and freeze for at least two hours. Fruity ice cubes can be added to still or sparkling water.
Serving Suggestion: Slap the mint leaves between your palms for a stronger taste.
Healthy tip!
Having a party? Serve vegie sticks and water crackers with salsa rather than high-fat chips and dips.
Start to LiveLighter today
Become a member for free and receive your personalised meal plan.