Healthy Magic Moroccan Beef Recipe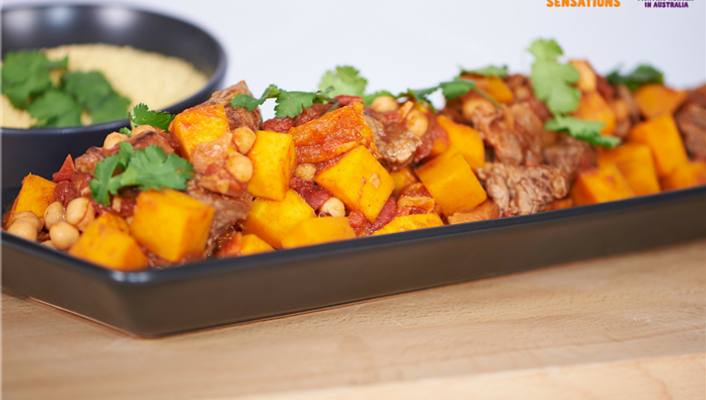 Ingredients
spray olive or canola oil spray
1 onion, finely chopped
3 cloves garlic, crushed
400 g chuck, oyster blade or lean casserole beef
3 tsp ground cumin
2 tsp ground coriander
1 tsp ground cinnamon
to taste pepper
1 x 400g can no-added-salt diced tomatoes
1/2 butternut pumpkin, peeled and chopped
16 dried apricots, halved
1 cup water
2 tsp reduced-salt vegetable stock powder
1 x 400g can no-added-salt chickpeas, drained and rinsed
1 1/2 cups couscous
1 cup coriander stalks and leaves, chopped (optional)
1 1/2 cups boiling water
Method
Heat oil in a large frying pan and cook onions and garlic on a medium heat till they soften.
Turn up the heat and add the meat, stirring often to get it nice and brown on all sides.
Add the spices, tomatoes, pumpkin, aprictos, water and half the vegetable stock powder. Cover with a lid or foil and simmer for 10 minutes, stirring occasionally.
Add the chickpeas and stir, and cook for another 5 minutes with the lid off. The beef should be cooked through, the pumpkin soft and the sauce thick.
Serve with couscous and fresh coriander.
Make the couscous while the stew is cooking:
In a heat-proof bowl, add the couscous, half the vegetable stock powder and the boiling water. Give it a quick stir and cover the bowl with a lid or cling wrap.
Set aside for 5 minutes.
Use a fork to gently scratch the couscous grains to fluff them up.
Recipe from Foodbank WA's Food Sensations® for Adults program, reproduced with permission www.foodbankwa.org.au/food-sensations-for-adults/
Variation: Carrots or sweet potato can be used instead of pumpkin, and the dried apricots can be swapped for sultanas, dates or prunes.
Recipe by Food Sensations

Ingredients

Equipment

Add the meat and stir often to get it nice and brown on all sides.

Add the chickpeas and stir through the stew.
Serving Suggestion: This recipe works well in the slow cooker, just add an extra cup of water and cook stew ingredients for 4 hours on high or 6 hours on low.
Comment: *For a gluten-free alternative serve with rice or quinoa instead of couscous.
Healthy tip!
Swap a large portion of meat for a smaller portion with extra vegetables.
Nutrition Information
| | per serving | per 100g |
| --- | --- | --- |
| Energy | 1247 kJ | 323 kJ |
| Protein | 25.5 g | 6.6 g |
| Fat, total | 8.4 g | 2.2 g |
| — saturated | 1.9 g | 0.5 g |
| Carbohydrate | 24.6 g | 6.4 g |
| — sugars | 13.8 g | 3.6 g |
| Sodium | 538 mg | 139 mg |
| Fibre | 8.4 g | 2.2 g |