Healthy Moroccan Baked Eggplant Recipe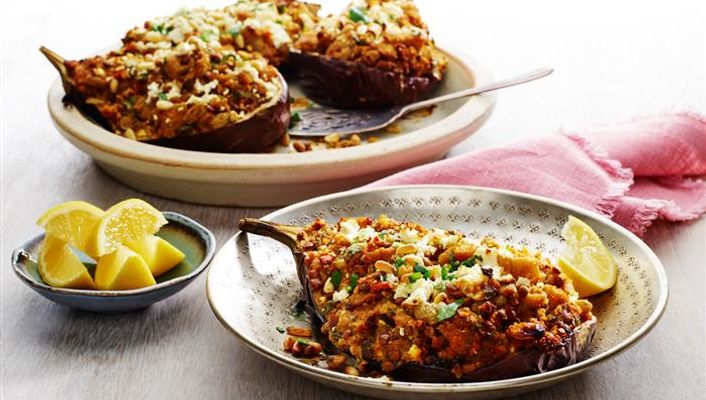 Ingredients
2 eggplants
spray olive or canola oil spray
1 onion, diced
4 cloves garlic, finely chopped
1 tbs ground cumin
2 tsp ground cinnamon
1 tsp turmeric
to taste pepper
3/4 cup wholemeal couscous
1 x 400 g can no-added-salt brown lentils, drained and rinsed
1 x 400 g can no-added-salt diced tomatoes
1 lemon, zested and cut into wedges
2 tbs raisins
1/2 cup flat-leaf parsley, chopped
4 tbs pine nuts
100 g reduced-fat feta cheese
Method
Preheat oven to 200ºC (180ºC fan-forced) and line a tray or oven-proof dish with baking paper.
Halve eggplants lengthways. Create a cavity by cutting a 1cm-wide border around the edge of each eggplant half. Use a teaspoon to scoop out the flesh then dice and reserve for filling.
Put eggplant shells in the oven (even if it's not fully heated yet) while you prepare the filling.
Place a large non-stick saucepan on medium-high heat and spray with oil. Cook onion for 3 minutes, stirring occasionally. Add garlic and spices and cook for another minute until fragrant.
Add eggplant flesh, couscous, lentils, tomatoes, lemon zest and raisins, and half each of the parsley, pine nuts and feta. Stir to combine.
Remove the eggplants from the oven and fill with the couscous and lentil mixture.
Cover tray with foil and bake for 30 minutes. Remove foil, add remaining feta and pine nuts and bake a further 10-15 minutes until cheese is browned and eggplant is tender.
Place an eggplant half on each serving plate and top with remaining parsley and serve with lemon wedges.
Variation: Swap the lentils for 300 g beef or lamb mince and add at step 4. Try using zucchinis or butternut pumpkin instead of eggplant for this recipe.
Comment: *Leave out the feta cheese to make this dish dairy-free. We used eggplants that were 500 g each.
Healthy tip!
Chilli, lemon and herbs add flavour - great alternatives to butter and salt!
Start to LiveLighter today
Become a member for free and receive your personalised meal plan.
Nutrition Information
| | per serving | per 100g |
| --- | --- | --- |
| Energy | 2189 kJ | 456 kJ |
| | 523 Cal | 109 Cal |
| Protein | 24.8 g | 5.2 g |
| Fat, total | 17.3 g | 3.6 g |
| — saturated | 3.2 g | 0.7 g |
| Carbohydrate | 57.8 g | 12.1 g |
| — sugars | 18.7 g | 3.9 g |
| Sodium | 370 mg | 77 mg |
| Fibre | 15.6 g | 3.3 g |