Healthy Saucy Spag Balls Recipe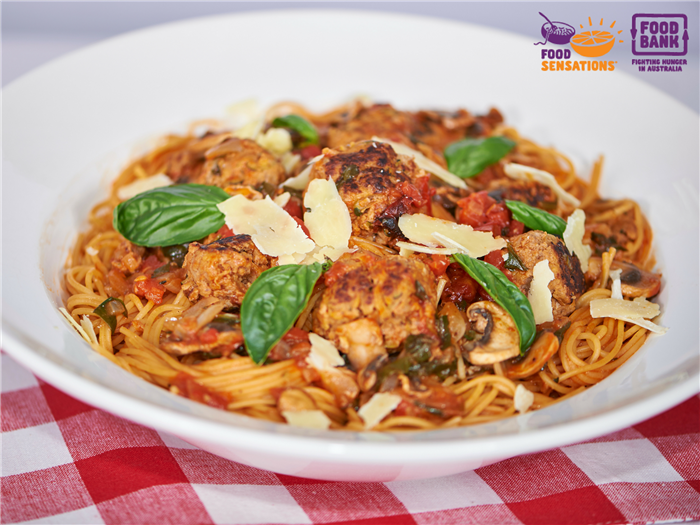 Ingredients
1 clove garlic, crushed
1 carrot, grated
1/2 zucchini, grated
1 onion, finely diced
6 mushrooms, finely chopped
1 cup baby spinach leaves, finely chopped
500 g lean beef mince
1 egg
1 tsp dried mixed herbs
1 cup breadcrumbs
2 tbs no-added-salt tomato paste
2 tsp reduced-salt beef stock powder
4 cups water
1 x 400g can no-added-salt diced tomatoes
300 g spaghetti
Method
Combine mince, garlic, carrot, zucchini, parsley, egg and breadcrumbs in a bowl. With wet hands, roll 1 tablespoon of mixture to make a ball. Repeat to make 16 to 24 meatballs.
Turn frypan onto medium heat and spray with oil. Add meatballs to frypan and cook until browned all over. Remove from pan and set aside.
Add onion to frypan and cook until soft. Add tomato paste, mushrooms, spinach, stock powder and water and bring to the boil. Add meatballs to sauce, reduce heat and simmer covered for 10 minutes. Gently stir after 5 minutes.
Stir in tomatoes and add spaghetti. Cook for 8 minutes, uncovered, stirring occasionally until pasta is cooked.
Recipe from Foodbank WA's Food Sensations® for Adults program, reproduced with permission www.foodbankwa.org.au/food-sensations-for-adults/
Recipe by Food Sensations

Ingredients

Equipment

Cook meatballs until brown all over.

Add meatballs to sauce.

Stir in tomato and add spaghetti.
Serving Suggestion: Serve with fresh basil and parmesan.
Healthy tip!
Vegies are a great source of healthy nutrients. Try to include extra vegetables at lunch and dinner.
Start to LiveLighter today
Become a member for free and receive your personalised meal plan.
Nutrition Information
| | per serving | per 100g |
| --- | --- | --- |
| Energy | 1959 kJ | 381 kJ |
| Protein | 31.8 g | 6.2 g |
| Fat, total | 11 g | 2.1 g |
| — saturated | 3.9 g | 0.8 g |
| Carbohydrate | 56.2 g | 10.9 g |
| — sugars | 6.3 g | 1.2 g |
| Sodium | 599 mg | 116 mg |
| Fibre | 6.3 g | 1.2 g |