Healthy Winning Walnut Dip Recipe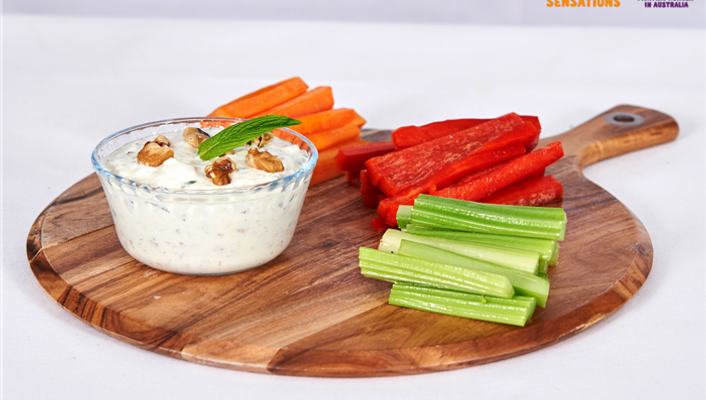 Ingredients
1/4 cup walnuts
1 clove garlic, crushed
1 tsp dill
1 lemon
1 cup low-fat natural or Greek yoghurt
Method
Finely chop or blend walnuts.
Finely grate lemon rind.
Add walnuts, garlic, dill, lemon rind and yoghurt to a bowl.
Recipe from Foodbank WA's Food Sensations® for Adults program, reproduced with permission www.foodbankwa.org.au/food-sensations-for-adults/
Recipe by Food Sensations

Ingredients

Equipment

Finely chop walnuts.

Add all ingredients to a bowl and mix.
Serving Suggestion: Use as a dipping sauce with lamb koftas or serve as a dip with vegetable sticks and rice crackers.
Healthy tip!
Having a party? Serve vegie sticks and water crackers with salsa rather than high-fat chips and dips.
Start to LiveLighter today
Become a member for free and receive your personalised meal plan.
Nutrition Information
| | per serving | per 100g |
| --- | --- | --- |
| Energy | 364 kJ | 719 kJ |
| Protein | 3.4 g | 6.6 g |
| Fat, total | 6.1 g | 12.1 g |
| — saturated | 1.6 g | 3.1 g |
| Carbohydrate | 4.1 g | 8.1 g |
| — sugars | 4.1 g | 8 g |
| Sodium | 32 mg | 62 mg |
| Fibre | 0.6 g | 1.1 g |