Healthy Apple Pudding With Cinnamon Custard Recipe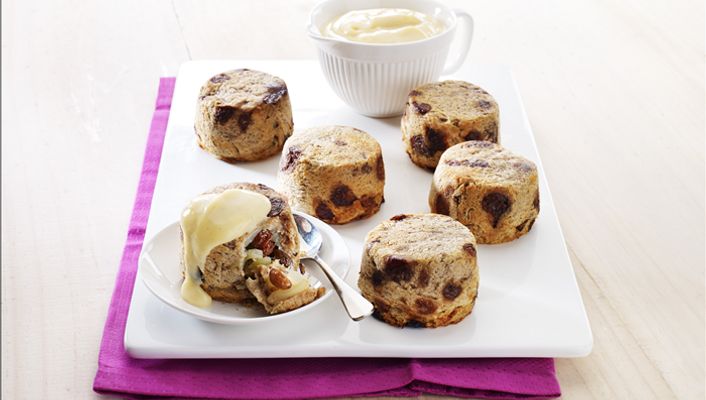 Ingredients
12 slices raisin toast or fruit bread
olive or canola oil spray
400 g can unsweetened pie apple mixture
4 tbs sultanas
1 tsp lemon rind, grated
3 tbs custard powder
1 1/2 tbs caster sugar
1 tsp ground cinnamon
1 tsp vanilla extract
3 cups reduced-fat milk
Method
Preheat oven to 180ºC (160°C fan forced).
Sparingly remove crusts from 6 slices of raisin toast and flatten bread with a rolling pin.
Spray 6 holes of a regular sized (½-cup capacity) muffin tin with oil; press bread firmly into holes.
Combine apple, sultanas and lemon in a medium-sized bowl. Mix well.
Fill bread cavities to the rim of the tin with apple mixture, pressing firmly with the back of a spoon. Fold in any overhanging bread.
To form a lid with remaining bread slices, cut 6 x 8cm diameter circles using a biscuit cutter or upside down glass. Press on bread lid to cover apple mixture. Bake in the oven for 20 minutes until golden brown.
To make custard, combine custard powder, sugar, cinnamon, vanilla and 3 tablespoons milk in a medium-sized saucepan. Mix well to form a paste and smooth lumps then stir in remaining milk. Place over medium heat and slowly bring to the boil, stirring often. Reduce heat and simmer for 2 minutes until mixture thickens. Remove from heat; cover surface with plastic wrap until time to serve.
To remove puddings, run a knife around the edge of each hole and invert onto individual plates.
Pour over custard, sprinkle with cinnamon if desired and serve immediately.
Hint
Homemade stewed apples contain too much moisture and are unsuitable for this recipe.
Not suitable to store or freeze.
Variation: Custard can be microwaved on HIGH (100%) for 4 minutes. Whisk well and microwave for a further 3-4 minutes, whisk again.
Comment: This recipe contains 1 tsp of added sugar per serving
Start to LiveLighter today
Become a member for free and receive your personalised meal plan.
Nutrition Information
| | per serving | per 100g |
| --- | --- | --- |
| Energy | 1244 kJ | 469 kJ |
| | 297 Cal | 112 Cal |
| Protein | 10.3 g | 3.9 g |
| Fat, total | 4.7 g | 1.8 g |
| — saturated | 1.8 g | 0.7 g |
| Carbohydrate | 52.3 g | 19.7 g |
| — sugars | 29.3 g | 11 g |
| Sodium | 175.4 mg | 66.1 mg |
| Fibre | 2.9 g | 1.1 g |