Healthy Berry Rhubarb Meringue Pots Recipe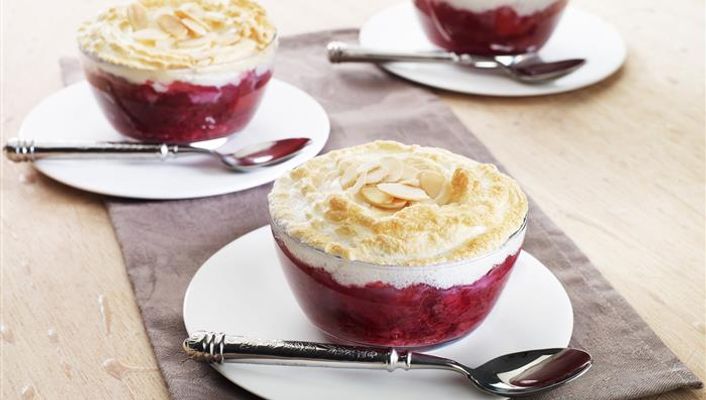 Ingredients
4 stalks rhubarb, cut into 5cm lengths
2 apples, peeled, cored and thinly sliced
1 1/2 cups frozen mixed berries
1/2 cup unsweetened apple juice or water
1 tsp ground cinnamon
2 egg whites, at room temperature
1 tbs caster sugar
1/4 cup slivered almonds
Method
Preheat oven to 180ºC (160°C fan forced).
Place rhubarb, apples, berries, juice or water and cinnamon into a large saucepan over a moderate heat. Cover, bring to the boil and simmer gently, stirring occasionally, over a low heat for 15-20 minutes until rhubarb is soft but apples retain their shape.
In a clean dry bowl whisk the egg whites until soft peaks have formed. Add sugar and beat until sugar has dissolved.
Divide cooked fruit between 4 small 1-cup capacity overproof bowls and top with meringue, shaping into a peak. Sprinkle with almonds and bake for 10 minutes until golden. Serve immediately.
Hint
Alternatively bake in a large 1 litre capacity overproof dish.
Fruit can be cooked, covered, in a heat-proof microwave-safe dish on HIGH (100%) for 12-15 minutes, stirring occasionally.
Variations
Substitute pears or nashi fruit for apples.
Omit meringue top and serve stewed fruit in a breakfast parfait or simply with low fat yoghurt.
Nutrition Information
| | per serving | per 100g |
| --- | --- | --- |
| Energy | 712 kJ | 222 kJ |
| Protein | 5.5 g | 1.7 g |
| Fat, total | 4.4 g | 1.4 g |
| — saturated | 0.4 g | 0.1 g |
| Carbohydrate | 23 g | 7.2 g |
| — sugars | 22.4 g | 7 g |
| Sodium | 40.9 mg | 12.8 mg |
| Fibre | 7.1 g | 2.2 g |