Healthy Garlic Roasted Chickpeas Recipe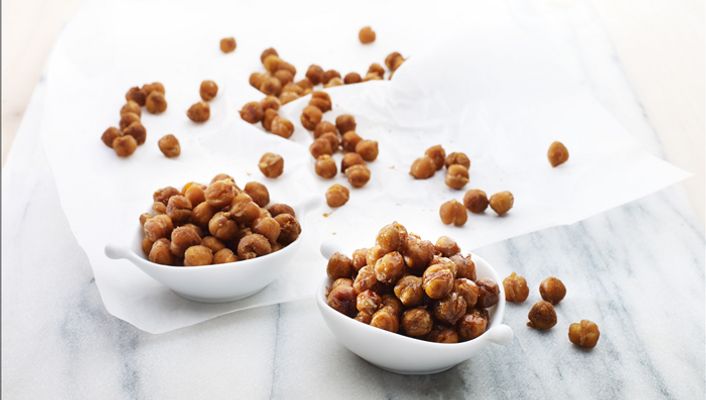 Ingredients
2 x 400g cans no-added-salt chickpeas, drained and rinsed
1/2 tsp garlic powder
1/2 tsp ground cumin
1/4 tsp ground cinnamon
pinch cayenne pepper, to taste
olive or canola oil spray
Method
Preheat oven to 200°C (180°C fan forced).
Place well drained chickpeas between sheets of paper towel and pat gently to absorb water taking care not to rub off skins.
Transfer to a large tray lined with baking paper; spread chickpeas evenly in a single layer. Bake for 35-40 minutes until chickpeas are lightly browned and crunchy in the centre.
Combine garlic powder, cumin, cinnamon and cayenne in a 3-cup capacity container with a lid or large ziplock bag; set aside.
Spray chickpeas with an even coating of oil then use the baking paper to transfer them into the container with spice mix.
Replace the lid or seal bag and shake to coat chickpeas with spices.
Serve immediately or allow chickpeas to cool completely before storing in an airtight container.
Variation: Use these crunchy chickpeas as an alternative to nuts to top salads.
Healthy tip!
Having a party? Serve vegie sticks and water crackers with salsa rather than high-fat chips and dips.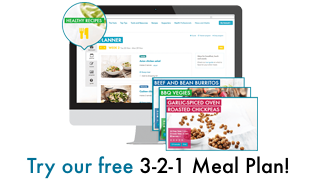 Nutrition Information
| | per serving | per 100g |
| --- | --- | --- |
| Energy | 665 kJ | 498 kJ |
| Protein | 8 g | 6 g |
| Fat, total | 3 g | 3 g |
| — saturated | 0.4 g | 0.3 g |
| Carbohydrate | 20 g | 15 g |
| — sugars | 1 g | 0.7 g |
| Sodium | 330 mg | 248 mg |
| Fibre | 6 g | 5 g |